If you want to use your bank account without any issues then you should make sure you have completed your KYC. And PAN Card is one of the most important parts of the KYC detail. In this guide, you will learn how you can link PAN Card with a DCB Bank account online and offline.
Here when I say online I am talking about the internet banking facility of the bank. And by offline I mean visiting the home branch of the bank personally. Many people don't like to visit the bank and get things done. By looking at this trend these days banks have come with many functions in internet banking.
But if you want to link it online. Then you need access to your internet banking account. If you have already activated internet banking then you are good to go. In case not then you can do that within minutes from the official website of the bank.
While using your bank account online you have to make sure that you are not sharing your details with anyone. The details like your username, password, and OTP should be always kept confidential. And no one from the bank will ever call to ask you these details. If someone contacts to ask for these details then don't share it with them.
Methods to Link PAN Card with DCB Bank Account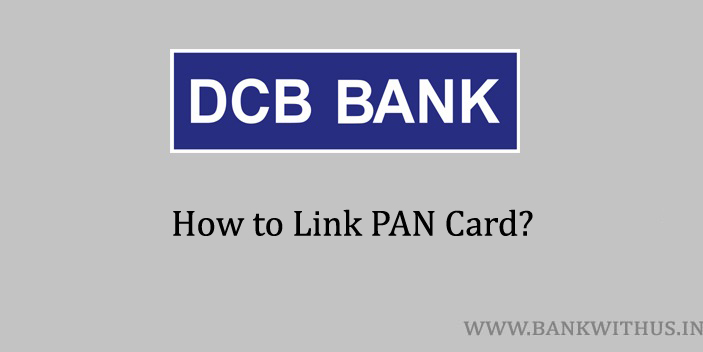 Both the methods are explained below, choose any one method to link your permanent account number with your bank account.
Using Internet Banking
Steps to Link PAN Card with DCB Bank Account Online:
Visit the official website of the DCB Bank.
Select internet banking.
Choose between personal and business banking.
Enter your User ID.
Enter your password and click on the login button.
Click on services.
Select "Update PAN Card".
Enter your Card number.
Follow the on-screen instructions to complete the linking process.
Visiting Home Branch
Steps to Link PAN Card with DCB Bank Account by Visting Home Branch:
Take a clear photocopy of your PAN Card.
Visit your DCB Bank home branch.
Go to the helpdesk of the branch.
Tell the bank officials that you want to link your PAN Card.
Collect a PAN Card updation form.
Fill the form with all the required details.
Check if there are any mistakes.
Sign the form.
Attach the form and the photocopy of the Card and submit it to the bank officials.
Conclusion
These are the 2 methods by following which you can link your permanent account number with DCB Bank account online and offline. For more information, you can call the customer care of the bank on 1800 209 5363 (toll-free) and speak with the customer care executive.