DCB or the date of birth is recorded by the bank when the customer opens an account. But in case if there is a mistake in doing this. Then you can request the bank to correct it. In this guide, I will tell you how you can change DOB in DCB Bank account.
Being the account holder you can request the bank to change the DOB. But the bank will take your request only if you have proper proof document with you. The reason for this is the Date of Birth is a very important part of the KYC for the banks.
So before you get started with the process you should make arrangements for the document. The document you are providing to the bank should have your correct DOB printed on it. It can be an Aadhaar Card, Birth Certificate, Marksheet, etc. But the document should be issued by the concerned department.
The bank will not take the original copy of the document from you. You just have to submit the photocopy of your document with your signature on it. Just should the original copy for the purpose of verification And then you can take your original copy with you.
There is no online method that you can follow to change your DOB using internet banking or mobile banking. So I have explained an offline method below. In this method, you need to write an application letter and submit it to your DCB Bank's home branch.
Steps to Change DOB in DCB Bank Account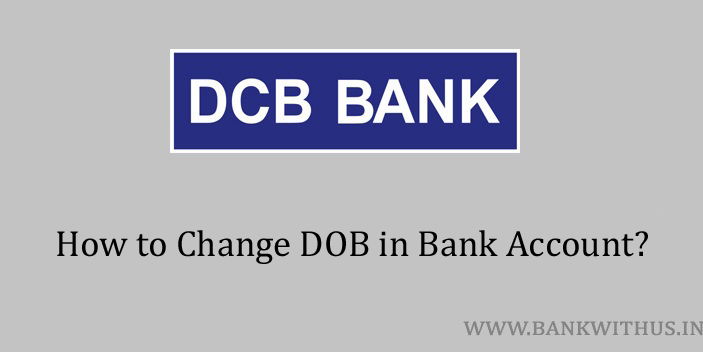 Follow the instructions given below.
Steps to Change DOB in DCB Bank Account:
Take a sheet of paper and start writing an application letter.
The letter you are writing should address the branch manager of your DCB Bank's home branch.
The subject of the letter should be "Request to Change DOB in the Bank Account".
In the body of the letter explain that your date of birth is mentioned wrong in the account. So you want to correct it.
Further mention your name, account number, and the name of the document you are providing to the bank.
Now get a clear photocopy of the document and make your signature on it.
Attach the photocopy with your application letter.
Visit your DCB Bank's home branch.
Submit your application letter and photocopy it to the bank officials.
Conclusion
Never share your account details like username, password, OTP, etc. with anyone. And no one from the bank will ever contact you asking for such details. If you need more help then you can call the customer care of the bank on 022 6899 7777.