You should always make sure that you keep your registered mobile number and email address up to date. Well, the registered mobile number has its own importance in the safety of your bank account. The email address is also an important aspect to focus on. In this guide of mine, I will tell you how you can update email address in DCB Bank account.
The steps are very easy but if you don't have your email address registered with the bank account. Then you are losing some important features like account statements via Email, etc. This feature in which the bank sends the account statement via email to the account holders is free of cost. This means you won't be charged anything to receive this statement.
But to receive these statements you have to make sure you have registered or updated your email address in the bank account. In this guide, I will not be telling you about any online method. The method that has been discussed below is an offline one. In which we will not be making use of mobile banking or internet banking services. Instead of that, we will be visiting your DCB Bank's home branch.
Steps to Update Email Address in DCB Bank Account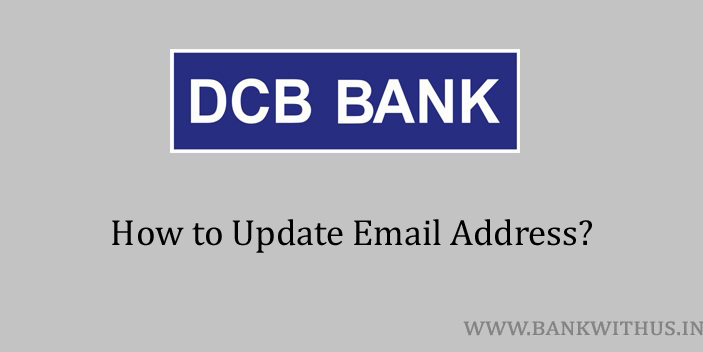 There is a special format or form that has been designed by DCB Bank for such updates. The bank calls it "Customer Request Form". You can download this form online from their official website and also get it from your home branch. In case you fail to get it then you can also submit a handwritten application letter addressing to your branch manager.
Steps to Update Email Address in DCB Bank Account:
Download and take a printout of the "Customer Request Form".
Mention the date on which you are filling the form.
You have to mention your name, account number, and other details too.
Go to the "Update Contact Details Section".
Tick the box that says "Update Email Address".
Mention your new email address in the space provided.
If you want to update anything else then you can fill it in the form.
Make your signature in the space provided at the end of the request form.
Submit the duly filled and signed form to the bank officials.
Conclusion
While you visit your DCB Bank's home branch, you also have to carry your identity proof document. The officials may ask you to show the document for verification purposes. If you don't have the original copy. Then you can also make use of the Digilocker app for the same. For more details, you can call the customer care of the bank on 1800 209 5363. And speak with the customer care executive of the bank.