The Mini Statement is a great option when you want to get details of the last few transactions that took place in your bank account. If you want more in-depth details then you should get the bank account statement. This guide is for the account holders of the DCB Bank who want to get a mini statement of their bank account.
There are 3 methods that can be followed by you to get the mini statement. I have explained all the methods. You can choose any one of these methods and follow the instructions. Two methods can be used without moving out of your place. And the third one requires you to personally visit the ATM machine.
Methods to Get DCB Bank Mini Statement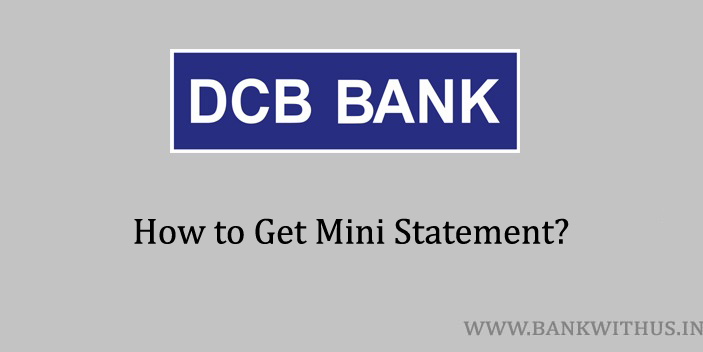 All 3 methods are discussed below. In the statement you will find the details of the last 5 transactions of your bank account.
By Giving a Missed Call
Steps to Get DCB Bank Mini Statement by Giving a Missed Call:
By Sending an SMS
Steps to Get DCB Bank Mini Statement by Sending an SMS:
Type an SMS as STMT
And send it to 9821878789.
You will receive an SMS from DCB Bank instantly.
Using ATM Machine
Steps to Get DCB Bank Mini Statement using ATM Machine:
Locate the nearest ATM machine to your location.
Visit the ATM machine.
Insert your ATM card into the machine.
Choose the language in which you want to use the machine.
Enter your 4 digits PIN Number.
Choose "Mini Statement" from the screen of the machine.
Select the type of bank account you have. (savings or current bank account)
You will get a printed receipt out of the machine.
Conclusion
This is how you can get the statement of your DCB Bank account. The fastest method is by giving a missed call. For more details, you can call the customer care of the DCB Bank on their toll-free number: 1800 209 5363 and talk with the customer care executive he or she will be more than happy to assist you.