Axis Bank is one of the biggest banks in the private sector banks in our country. People love them, hate them for the service they provide. But I have seen most of the people happy with their services. One of the most unwanted things that happen is consolidated account charges in Axis Bank.
Most of the customers are fed up with these charges which are applied to them. If you are an Axis Bank account holder and want to know if you have any consolidated account charges. Then you can check for it in the bank account statement.
You can get the bank account statement by visiting your home branch and also you can get it via internet banking. If you are looking for an article online that will help you with the consolidated account charges in Axis Bank. Then let me tell you that you have been landed on the right website here.
Because in this article of mine, I will tell you about the consolidated account charges in Axis Bank. I will tell you what actually these are and how to deal with it.
What are Consolidated Account Charges in Axis Bank?
So now let us get started with this article and check out what exactly are consolidated account charges in Axis Bank. I have personally come across these charges in the bank account which I hold with this bank.
Let me show you the screenshot of my bank account.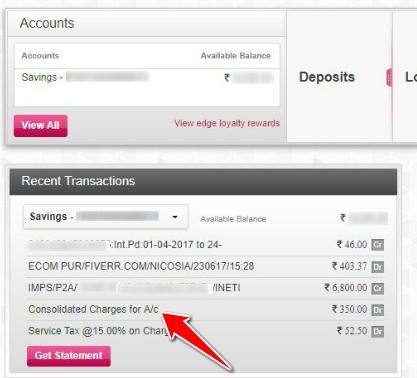 They have charged me Rs. 350 + 52.50 service tax. When I saw this I was surprised and right away called them on their customer care number.
They did not ask me for any other details like my bank account number etc. because I was calling from my registered mobile number.
This is why you should prefer using your registered mobile number to call customer care.
I told them that I am seeing some charges in my bank account. They put my call on hold and checked the details about this deduction.
They told me that it was all because I did not maintain the minimum bank account balance on the previous month. And they were right I had withdrawn the money from the bank account for some reason.
So what can we conclude?
If you are seeing consolidated account charges in your Axis Bank account statement then it can be because of non-maintenance of minimum balance.
But how can you verify this?
It is very simple and you just have to call them on 1800 209 5577 and ask about it. The call will be connected very quickly and they will tell you about it.
Let's Wrap Up The Things
So this is all about the consolidated account charges in Axis Bank. What do you think about the services offered by Axis Bank? I personally feel their services are good but they charge too much. You can share your experience with me by commenting below.