Mini Statement is the compressed version of the bank account statement. You can use this to check your remaining bank account balance. And at the same time, you can also get the details of the last few transactions that happened in your bank account. This guide will help you out with the steps you need to follow to get Axis Bank mini statement.
If you are looking for the transactions that happened for a prolonged period of time. Like, say for 3 months or 6 months. Then this will not help you out. For that purpose, you need to get the complete bank account statement. You can get that online using internet banking and mobile banking. And offline by visiting your home branch.
Methods to Get Axis Bank Mini Statement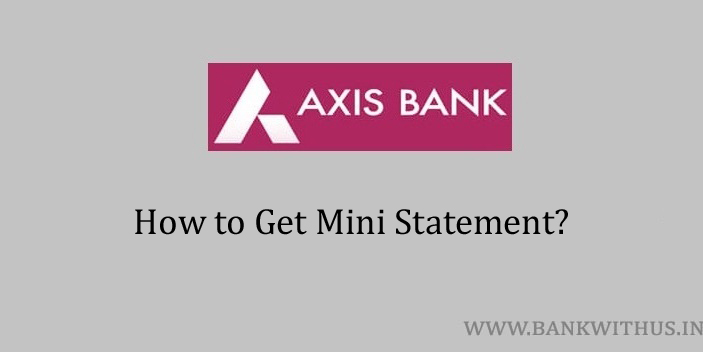 There are two methods that you can follow to get the statement. But there are no online methods, you only have the offline method to get the statement.
Using ATM Machine
Steps to Get Axis Bank Mini Statement using ATM Machine:
Find the nearest ATM machine to your current location.
Visit the ATM Machine.
Insert your ATM card into the machine.
Choose the language in which you would like to use the machine.
Enter your 4 digits PIN Number.
Select Continue.
Now you have to select the Mini Statement option.
Select the type of account you have with Axis Bank. (savings or current account)
You will get your statement printed on a receipt out of the machine.
By Giving Missed Call
Steps to Get Axis Bank Mini Statement by Missed Call:
Give a missed call to 1800 419 6969 (English Statement) or 1800 419 6868. (Hindi Statement)
This missed call should be given using the registered mobile number only.
The call will get disconnected automatically.
Conclusion
These are the two methods by following which you can easily get your statement. You won't be charged anything by the bank if you are using the missed call method. And when it comes to the ATM machine method it depends upon which bank's machine (Axis Bank Machine or Other Bank Machine) you are using. And how many ATM transactions you have already done in the current month. For more information, you can call the customer care of the bank at 1860 419 5555 (toll-free) and speak with the bank's customer care executive.