If you have moved to a new place or have done some correction to your address proof document. Then you can update the same in your bank account as well. In this guide of mine, I will tell you how you can update or change address in Axis Bank account.
The address is a very important detail of the account holder. So when you approach the bank to change it. The bank will ask you to provide a proper proof document. With the document, the bank will not be able to update your address. And the document that you provide to the bank should certify your new address.
There are some documents that are accepted by Axis Bank as per a webpage on their official website. And they are Aadhaar Card, Passport, Driving License, NREGA Card, Voter ID Card, and  Letter issued by the National Population Register confirming details of Name, Address.
You can use any one of those documents as proof of your new address. But for the purpose of verification, you have to show the original document to the bank. So when you visit your home branch make sure you are carrying the original copy with you.
Steps to Change Address in Axis Bank Account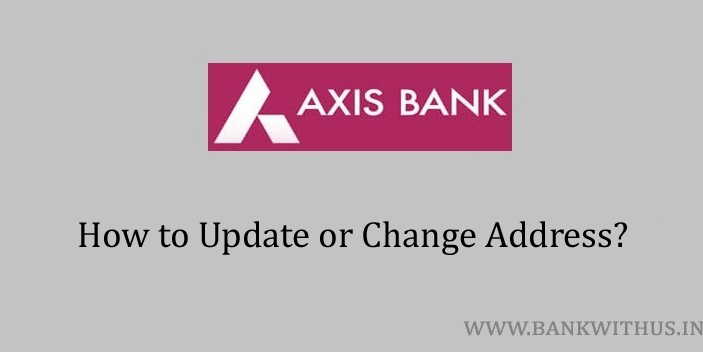 So as I have already mentioned about the home branch. You might have understood that I am going to explain to you an offline method and not an online method. If you are away from your home town or home branch. Then you can visit any other branch of the Axis Bank in your present city or town.
Steps to Update of Change Address in Axis Bank Account:
Select the address proof document that you are planning to submit to Axis Bank.
Take a clear photocopy of the address proof document.
Make your signature on the address proof document to make it self-attested.
Download the Customer Request form from the official website of Axis Bank.
Use section number 6 of the form. (Change of Address)
Fill in all the required details like your name, account number, etc.
Select the type of address you want to change. (Communication, Residence, Office, or Permanent)
Sign the application form and attach the photocopy of the document with it.
Submit the application form to the bank officials for the update.
Conclusion
The change of address in your bank account is with respect to the verification of the details of the bank officials. So once your details are verified the update will be done within 1-2 working days. For more information, you can call the customer care of the bank on 1860 419 5555. And speak with the customer care executive of the bank.