Do you want to know what to do when money deducted from bank account? Then you are at the right place. The bank account is a very good place where you can store your hard earned money. If you deposit your money to your bank account no one can snatch the money from you.
But wait….
Why wait? what wait? Is this what you are currently thinking? I will tell you what.
The bank account is safe for your money until you keep your bank account access details confident. If you disclose your access details to third party people.
Then it is obvious that they will hack or have illegal access to your bank account. Which means ultimately your money is in danger.
And that is the reason why you should never share your bank account access details with any third party person. If you are confused about what I mean by the term bank account access details.
Let me explain you.
When we open a bank account with any of the banks which are operating in India. No matter which bank it is we will get ATM Card and plenty of features like internet banking, mobile banking etc.
If you share PIN number of your ATM card or user id and password of your internet banking. Then this is what bank account access details are.
This article is for you if money deducted from bank account you own. I will tell you why the money deducted from bank account what can be the reason for this.
I will also tell you how you can deal with this thing if you have come across the money deduction in the bank account.
What Next If Money Deducted From Bank Account?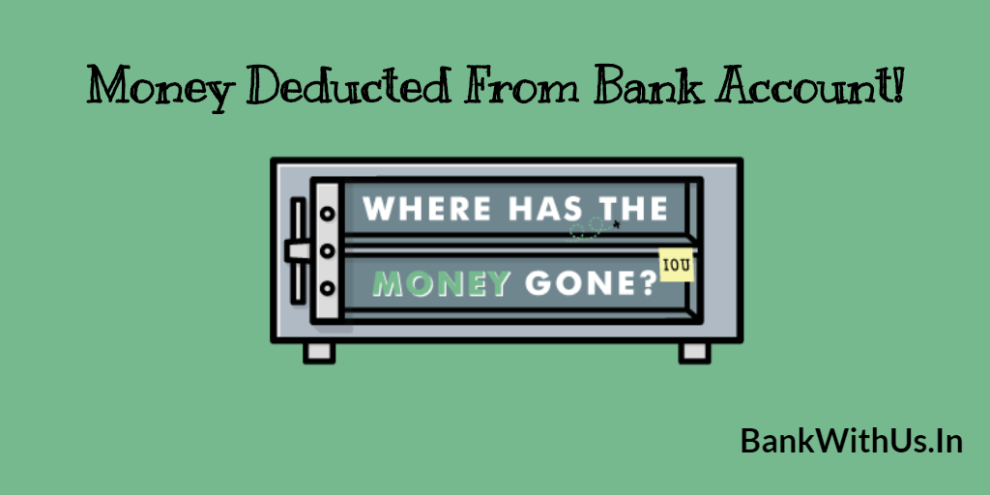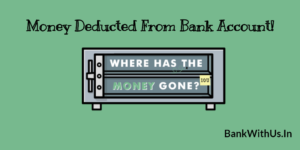 Ok, now let us get started with this article and check out the reasons for the money deduction in the bank account and how to deal with this.
It Can Be Bank Charges
The first things are the money deducted from bank account can be because of the charges which are applied by the bank.
Many of us don't know but there are many hidden charges in savings bank account.
Basically, these charges are applied when you don't maintain minimum bank account balance you will get charged by the bank.
If you have a bank account with Axis Bank then you can read my article about the consolidated account charges in the bank.
Not only because of non-maintenance of minimum account balance. But if can be also because of the ATM card charges etc.
How to Deal With It?
If you feel money deducted from bank account is because of the bank account charges. Then you can confirm it and deal with it by calling the customer care of the bank.
You have to call them and provide them your bank account number. They will check the recent deduction from your account and further assist you.
Sometimes you may have to visit your home branch to enquire about the money deducted from a bank account. But before you visit you can call the customer care and ask them about it.
If the customer care executive tells you that you personally have to visit the home branch then you can go there.
It Can Be Charges of Money Transfer
I have already mentioned about the internet banking and mobile banking features. We normally get it with all the banks.
With the help of these features, we can transfer money from our bank account to another bank account. The money transfer we do is not free of cost.
But the bank will charge us for the money transfers we don from our bank account.
If you have transferred money using IMPS, NEFT or RTGS service they the bank will charge you for it.
How to Deal With It?
It is a bank charge for the IMPS, NEFT and RTGS funds transfers. And you will not get the money back to your bank account if they are charges of fund transfer services.
If you want to verify it you can do that with the help of bank account statements and also in bank passbook.
Maybe Your ATM Card is Being Misused
Sounds foolish? it may sound foolish but this is true in some cases. If you have lost your ATM card somewhere or disclosed the ATM PIN number.
Then someone who has found your ATM card might just be misusing your ATM card. This can be very dangerous the money you have in your bank account.
How to Deal With It?
If you have lost your ATM Card somewhere then I highly recommend you to block your ATM card as soon as possible. And if you have disclosed your PIN number then you should change the PIN quickly.
Conclusion
So these are few things which you should know if money deducted from bank account. If you want to share anything with me then you can comment below.