The way we bank and use our bank accounts has been changed. We all know that we can use or access our bank account online. That is with the help of internet banking and mobile banking. These days the crowd you can see at the home branch of your bank is less because of these two amazing pieces of technology.
But what if you are don't have the internet and want to use your bank account?
Is there any way to use it offline without the internet?
The answer is Yes, you can use bank account offline without internet.
In fact in earlier days where the banks were not so advance people personally visit the branch of the banks. There was too much interaction with the bank officials in those days. But now it is not the case. Once you have opened your bank account and completed the face to face KYC. You may not have to visit the branch.
This guide will help you out to use bank account offline without internet.
Ways to Use Your Bank Account Offline Without Internet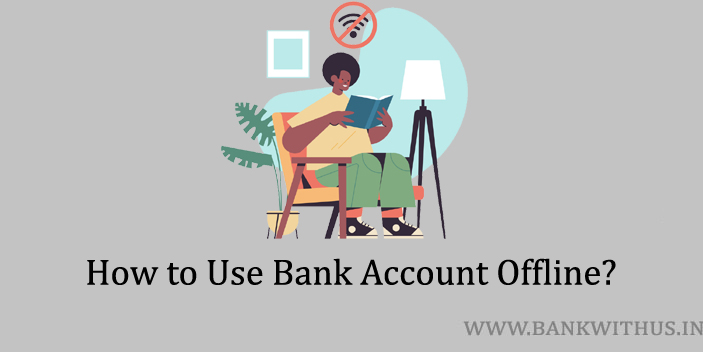 There are two ways by which you can use your bank account without using the internet. I have explained both the methods below.
By Visting the Branch of the Bank
This is the most traditional method of accessing or using the bank account. You can personally visit the branch of the bank and make changes to your bank account. First, you have to check if your bank insists you to visit the home branch itself or any branch of them.
If your bank wants you to visit the home branch only. Then you will have to go there to use your account. But these days banks are allowing you to access your account from any of their branches. To get this thing confirmed call your bank's customer care and speak with their executive.
Almost every kind of change to your account can be done from the branch of the bank. Let me list down the things you can do at the branch of the bank.
Operations that can be done from the branch:
Perform KYC of your Account.
Open a New Bank Account.
Close your Existing Account.
Open or Close FD.
Open or Close RD.
Request Cheque Book.
Print and Request New Bank Passbook.
Deposit and Withdraw Money.
Apply for Loan.
Add or Remove Joint Account Holder.
Make Changes to your Name.
Change your Registered Mobile Number and Email Address.
Block and Request New ATM Card and Credit Card.
Report Unauthorized Transaction.
Apply for Credit Card.
Change your Address.
Link or Update PAN Card or Aadhaar Card Details.
And More.
Using the ATM Machine
The second offline option to use a bank account is using the ATM machine. Traditionally the ATM machines helped us to withdraw money from our account. But modern ATM machines can do much more than that. If you want to enjoy all the features of the machine then you should use the machine which is owned by your bank.
In case you just want to do things like withdrawal, balance enquiry, and get a mini statement. Then you can use the machine of any bank in India. You should also keep in mind that you can not use the ATM machine owned by your bank and other banks for unlimited times. Your bank may charge you for that.
Operations that can be done Using ATM Machine:
Withdraw Money.
Deposit Money. (In Case of Cash Deposit Machine)
Change Registered Mobile Number.
Send Money to another person. (Some Banks)
Generate New PIN for your ATM Card.
Request a New Cheque Book. (Some Banks)
Conclusion
These are the 2 methods to use bank account offline without internet. Always make sure that you are not exposing your bank account details like account number, debit card number, username, password, CVV, and OTP to anyone. And nobody from the bank will never contact to ask for such details. Stay Safe and Bank Safe.