There are so many banks that are operating in India. On this page, you will find the official websites of all the Indian Banks. When I say Indian Banks I am talking about those which are based in India. I am sharing 3 tables that will provide you details on the URL of official websites of 5 types of banks. The types are public-sector banks, private-sector banks, payments banks, Small Finance Banks, and Regional Rural Banks.
List of Official Websites of Public-sector Banks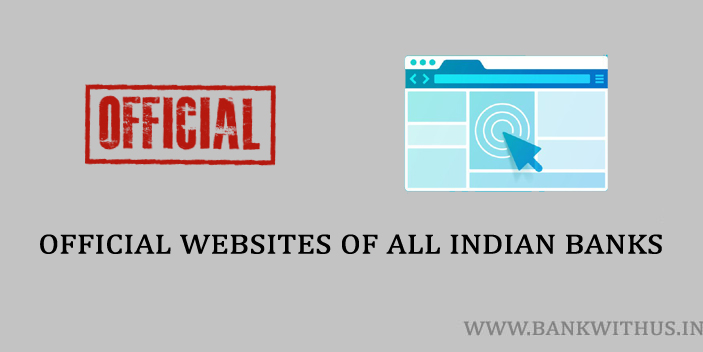 List of Official Websites of Private-sector Banks
List of Official Websites of Payments Banks
List of Official Websites of Small Finance Banks
List of Official Websites of Regional Rural Banks (RRBs)
How to Verify if You are Using Bank's Official Website?
Your bank account credentials like your username, password, ATM card number, bank account number, CVV, PIN number, and OTP are very confidential. You should never share these details with anyone. And the bank officials will never contact you asking for these details.
If you ever receive such communication then you should not respond. You just never need to share your confidential details. If you share the details then you are exposing your account details to the bad guys out there on the internet. I am talking about the hacker and the other cybercriminals.
Find your Bank's Offical Website URL on the Documents
The correct and most accurate URL of your official website on the documents that the bank has provided to you. The website URL will be printed on the bank passbook, ATM Card, Credit Card, and other documents. This will be the real URL of your bank's official website.
Check for Phishing Websites
There are some fake websites online which are look-alike of your bank's official website. But in reality, they are not. They are called Phishing Websites whose goal is to steal your username, password, and other details of your bank account. If you enter your details on these websites then your details will be provided to the hacker or cyber-criminal who has created that website.
Normally these phishing websites use domain names that will be missing anyone's letter of your bank's name. Let me explain this to you with an example.
Let us assume that I have a bank account with Example Bank and the URL of the official website of my bank is examplebank.com
Then the phishing website of my bank can be,
examplebnk.com
examplbank.com
examplebaank.com
The domain name will have one letter or any one or more letter will be missing. In simple words, the domain name will have a typo mistake. (Spelling Mistake) So beware of such websites and check for the spelling if it is correct or has a typo mistake. If it has then you are using a phishing website.
Other Glossary Terms:
| | |
| --- | --- |
| Funds Transfer | Customer Care |
| Customer Care Executive | Mobile Banking |
| Internet Banking | Account Holder |
| ATM Machine | On-screen Instructions |
| Registered Mobile Number | PAN Card |
| Aadhaar Card | Transaction |
| SMS | Home Branch |
| Toll-free Number | Branch Manager |
| Procedure | Financial Institution |