If you have not given your email address to the bank or if you want to change or update it. Then you can do it online and also offline. In this guide, I will tell you how you can update Email address in Bank of Baroda.
I will explain you to both online and the offline method. You can choose the one which you feel is easy for you and follow the instructions.
If you don't keep your email address up to date in your bank account. Then you won't receive any communication from the bank via email.
And here you should know that this thing won't affect the bank's communication with you via SMS on your registered mobile number in any way.
What I mean to say is even if your email address is not up to date in your Bank of Baroda account. You will receive SMS alerts on your registered mobile number.
Methods to Update Email Address in Bank of Baroda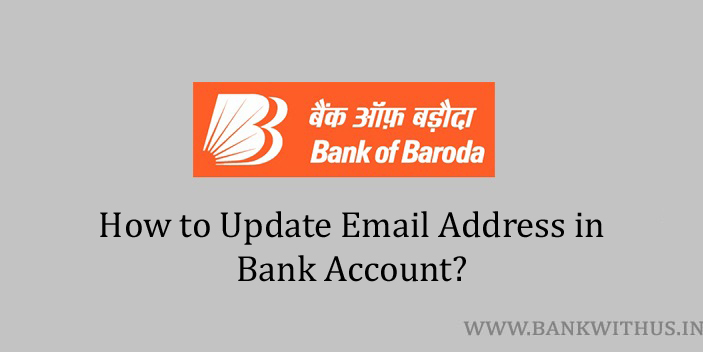 Choose any method and follow the instructions.
Using Mobile Banking App
Steps to Update Email Address in Bank of Baroda Online:
Download and Install the official mobile banking app of Bank of Baroda.
Open the app after installation.
Enter your account details and login into your account.
Tap on "Service Requests".
Select "Set Communication Email" from the Miscellaneous section.
Select your bank account number if you multiple accounts with BOB.
Enter your new email address.
Re-enter the same address for confirmation.
Tap on the "Submit" button to update your email address.
By Visiting Home Branch
Steps to Update Email Address in Bank of Baroda by Visiting Home Branch:
Take a sheet of paper.
Start writing an application letter.
The letter should address the branch manager of your BOB home branch.
The subject of the letter should be "Updation of Email Address in Bank Account".
In the body of the letter explain that you want to register or update your email address in the bank account.
Further make clear mention of your name, account number, and your email address.
Get a clear photocopy of any of your identity proof document and make your signature on it.
Attach the self-attested photocopy with your application letter.
Visit your Bank of Baroda's home branch and submit the applicaiton letter to the bank officials.
Conclusion 
If you wish you can also make use of the internet banking of the bank. And you won't be charged anything for this update. For more details, you can call the customer care of BOB on 1800 102 4455. (toll-free number)