These days we need not visit the branch of the bank to open a new bank account. The banks in India allow us to open the account from the comfort of our home or office. But one thing remains the same and that is the KYC. No matter how you are opening the account you will have to complete the KYC process. In this guide, I will tell you how you can complete Video KYC of Bank of Baroda account.
Bank of Baroda which is also known as BOB is a great bank. And if you are thinking of using the account of this bank as your primary account. Then it is a good choice. If you have completed the online account opening process successfully. Then the bank will send you further instructions via SMS or Email. You just have to follow the instructions and your account will be ready to use.
Before you proceed let me tell you what documents you will need to have with you.
The Process of Completing Video KYC in Bank of Baroda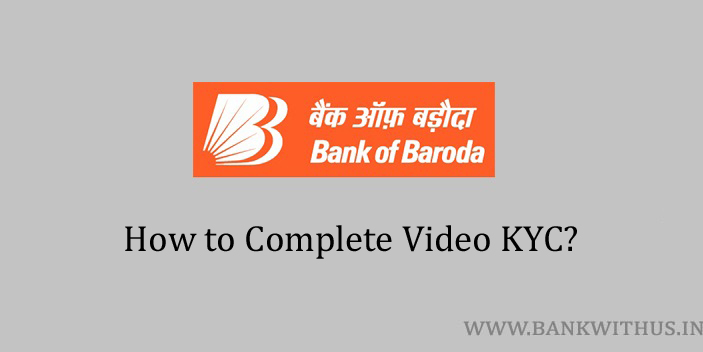 Just follow the instructions given below.
Steps to Complete Video KYC of Bank of Baroda Account:
Check your email for a new mail from the Bank of Baroda.
Follow the link provided in the email.
A new browser window will open.
Wait till you will be assisted by an executive of the Bank of Baroda.
Make sure your camera and microphone are working.
Sit in a place which has good light so that the camera of your phone or laptop can see you better.
The executive will ask you a few questions about your account answer those.
Show the executive your PAN Card and your Aadhaar Card.
Your account will be fully activated once the verification is complete.
For your reference, I have inserted the screenshot of the email I have received from the Bank of Baroda. Please make sure that you have opened the right email.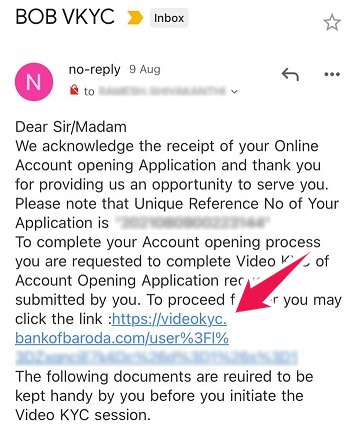 Conclusion
This is how you can complete the Video KYC of the account you have opened online with BOB. If you are facing any kind of issues, you can call the bank's customer care for assistance. The toll-free number is 1800 102 4455.