If you have lost your ATM card somewhere then as soon as you realize you have lost if you should take steps to block it. This guide is for the account holders of the UCO Bank. In this guide, I will tell you all the steps you need to follow to block UCO Bank ATM Card.
Multiple methods can be followed by you. It does not matter which method you follow. All it matters for time being is the card should be blocked. This will help you to ensure no one misuses the lost card for any unauthorized transactions.
The bank will not charge you to block the card. But you will have to pay for the new card that will be issued and linked to your bank account. There are both online methods and offline methods that you can follow to block the card.
Methods to Block UCO Bank ATM Card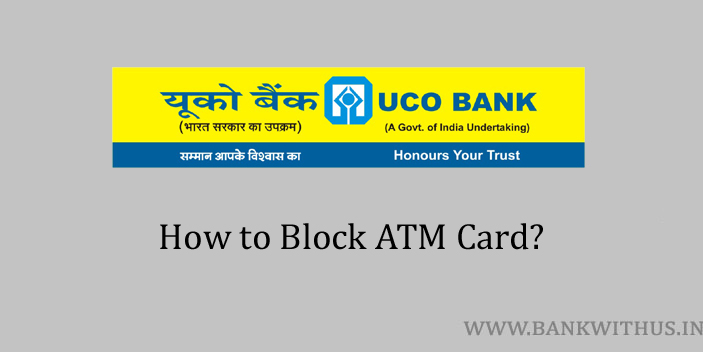 Choose any one method and follow the instructions.
By Sending SMS
Steps to Block UCO Bank ATM Card by Sending SMS:
Type an SMS as HOT <space> Card Number
Send this SMS to 9230192301 from your registered mobile number.
The bank's system will block your card.
You will receive an SMS confirmation from the bank.
By Calling Customer Care
Steps to Block UCO Bank ATM Card by Calling Customer Care:
Call the customer care of the bank on 1800 274 0123.
Choose the language in which you would like to interact.
Then choose the IVR option to speak with the customer care executive.
Tell the executive that you have lost the card and want to block it.
The executive will ask you a few questions about your account.
Answer all the questions correctly to verify your ownership of the account.
Provide the last digits of the card you have lost.
The executive will take your request.
And your card will be immediately blocked.
Using Mobile Banking
Steps to Block UCO Bank ATM Card using Mobile Banking:
Download and Install the official mobile banking application of UCO Bank.
Android users can install it from Google PlayStore.
iOS users can install it from the iTunes Store.
Open the app after a successful installation.
Enter your login details into the app.
Tap on Quick Services.
Select Debit Card Blocking.
Choose the debit card you want to block from the list.
And follow the on-screen instructions to block the card.
Conclusion
These are the different methods you can follow to block the card. Other than these 3 you can also use internet banking to block it. The process in internet banking is also similar to that of mobile banking. You should never share details like your username, password, PIN, and OTP, etc. with anyone. The bank officials will never contact you asking for such details.