If your date of birth or DOB is mentioned wrong in your account. Then you can request the bank to change it or correct it. I will tell you how you can change DOB in UCO Bank account in this guide of mine.
There is no online process that you can follow. What I mean is you can not use internet banking and mobile banking app to make this change.
You will have to visit your UCO Bank's home branch and submit an application letter to the branch manager. But for the bank to take your request. You will have to provide the proper proof document.
Here it is important for us to understand that the DOB is a very important detail of the account holder. This detail is used by the bank to classify the customers as minors, adults, and senior citizens.
That is the reason why the banks are very strict when it comes to making any kind of changes or corrections. If you have a proper proof document with you then the bank will do it for you.
You can use any identity proof document with your date of birth mentioned on it. It can be your 10th class mark sheet, Aadhaar Card, Birth Certificate, etc.
There is no need of submitting the original copy to the bank. The banks require a self-attested photocopy of the document. But while you visit the bank. You should carry your original copy as well. (for verification)
The process to Correct DOB in UCO Bank Account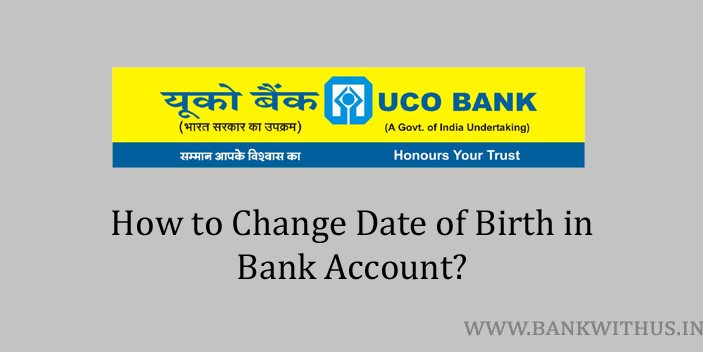 Follow the instructions given below.
Steps to Change DOB in UCO Bank Account:
Take a sheet of paper.
Start writing an application letter.
The application letter should be addressing the branch manager of your UCO Bank's home branch.
The subject of the letter should be "Correction of DOB in Bank Account".
In the body of the letter explain that your DOB is mentioned wrong in the account. And you want to correct it.
Further mention your name, bank account number, and your correct date of birth.
Now get a clear photocopy of the document you are providing to the bank.
Make your signature on the photocopy and attach it with your application letter.
Visit your UCO Bank's home branch and submit the application letter to the bank officials.
Conclusion
This is how you can correct your DOB in the UCO Bank account. This correction or the update is subject to the successful verification of your document by the bank. For more information, you can call the customer care of the bank on 1800 274 0123. (toll-free number)