The account holders need to register or update their email address in the bank account if they want to receive statements by email. Usually, the banks ask the account holder for the email address while opening the account. But in case if you have not given it then. You can update it now. In this guide, I will tell you how you can update email address in Central Bank of India account.
First of all, I recommend you run a check. Use internet banking or mobile banking of the bank. Login to your account and open the profile section. Look for the email address there. You will probably find "Email Address" or "Email ID" there. Click or Tap on the "Edit" button. Enter your new email address and tap on the submit button. This will help you to update your email address online.
But in case if you don't have this option online. Then you will have to follow the offline method that is explained below. In this offline method you the account holder has to personally visit your home branch and submit an application letter. In the further part of this guide, I have explained how you have to write the application letter. And to whom it has to address.
The Process to Update Email Address in Central Bank of India Account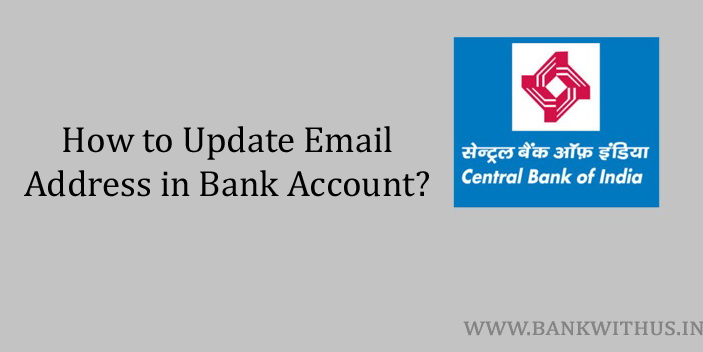 Follow the instructions given below.
Steps to Update Email Address in Central Bank of India:
Take a sheet of paper.
Start writing an application letter.
The letter should address the branch manager of your Central Bank of India's home branch.
The subject of the letter should be "Updation of Email Address in Bank Account".
In the body section of the letter explain that you want to update your email address in your bank account.
Further make mention of your name, account number, and your email address.
Get a clear photocopy of any of your identity proof document.
Sign the photocopy and attach it with your application letter.
Visit your home branch and submit the application letter to the bank officials.
Conclusion
If you happen to update the email address online. Then it will be updated instantly. And if you are updating it offline then it will be updated within 1 working day. The bank will not charge you anything for this update. If you need more help. You can call customer care on the bank's toll-free number: 1800 22 1911.