Central Bank of India is one of the largest public sector banks that are operating in India. Many people when hearing the name of the bank. They feel like this is the central bank in the Indian banking system. But it is not the central bank of our nation. Our central bank is the Reserve Bank of India. It is just the name of this bank. People also know this bank as CBI.
Not everyone calls this bank as CBI but the account holders of the bank refer to this bank as CBI. Today I will tell you the steps you can follow to get Central Bank of India Mini Statement. There are multiple methods that can be followed by you to get the mini statement. And I have explained to you all the methods in the further part of this guide.
In all the other banks working in India when you request the mini statement, you will get the details of the last 5 transactions that took place in your account. But this is not the case in the Central Bank of India. You will find the details of your last 3 transactions only. I found this information on the official website of the bank. And you should also know that the mini statement is not your bank account statement.
About Central Bank of India
| | |
| --- | --- |
| Type of Bank | Public |
| Founded | 21 December 1911 |
| Headquarters | Mumbai, Maharashtra |
| MD and CEO (May 2020) | Tapan Ray |
| Non-executive chairman (May 2020) | Pallav Mahapatra |
| Owner | Government of India |
| Number of Branches (September 2019) | 4,681 |
| Number of ATMs (September 2019) | 3,477 |
| Number of Employees (2018) | 37,162 |
| Revenue (2018) | ₹2,526.68 crore |
| Operating Income (2018) | ₹2,733 crore |
| Net Income (2018) | ₹-5,105 crore |
| Total Assets (2018) | ₹326,225.28 crore |
| Capital Ratio (2018) | 9.46% |
| Customer Care Phone Number | 1800 22 1911 |
| Official Website | www.centralbankofindia.co.in |
Methods for getting Central Bank of India Mini Statement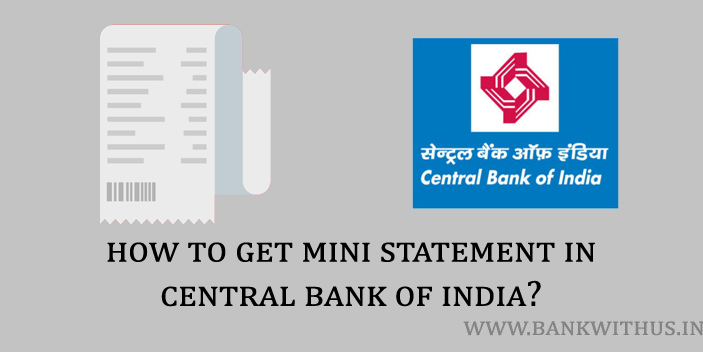 As I have told you that there are 2 methods they are as described below. You can find your CBI account balance and the last 3 transactions that you have done in your bank account mentioned in the mini statement.
Using ATM Machine
Steps to Get Central Bank of India Mini Statement using ATM Machine:
Find any ATM machine which is near to you in your region.
Insert your ATM card into the machine.
Select the language in which you would like to use the machine.
Enter your 4 digits PIN Number into the ATM Machine.
Select banking from the screen of the machine.
Then select Mini Statement.
Select the type of account you have. (Savings bank account or current account)
You will get a printed receipt which is nothing but your mini statement.
By Giving Missed Call
Steps to Get Central Bank of India Mini Statement by Giving Missed Call:
Conclusion 
This is how you can get can Central Bank of India mini statement. If you facing any difficulties then you can call customer care. And speak with the customer support executive they will help you out with the difficulties or problems you are facing.