The cheque book and the cheque payments are not new to we Indians. We have been making and receiving payments using the cheques for a long period of time. Even these days when we have so many different mediums to transfer money we use cheques. And now we can also stop the payment of an issued cheque. This guide will help you out with the steps to stop cheque payment in Dhanlaxmi Bank.
You can stop the payment only if the cheque has not been cleared yet. In case the cheque is cleared or passed. Then the money will be already deducted following a debit transaction. So there will be no way to stop such payment. So before you start the process you should check if the cheque is cleared or no. Also, keep in mind that the bank may charge you for this service. For the exact amount of charges, you can call the customer care of the bank.
Methods to Stop Cheque Payment in Dhanlaxmi Bank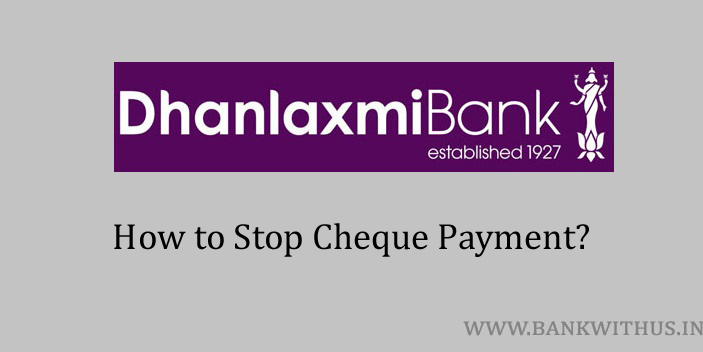 The account holders are allowed to request the bank to stop the payment online as well as offline. I have explained both the methods below. You can choose any method and follow the instructions.
Using Internet Banking
Steps to Stop Cheque Payment in Dhanlaxmi Bank Online:
Visit the official website of Dhanlaxmi Bank.
Select between personal or corporate in the Internet Banking section.
Click on the Login button.
Enter your Netbanking ID. (username)
On the next page enter your password and login into your account.
Look for the Stop Cheque payment request,
Select the option.
Enter the cheque number whose payment you want to stop.
Follow the on-screen instructions to request the bank.
By Visiting Home Branch
Steps to Stop Cheque Payment in Dhanlaxmi Bank by Visiting Home Branch:
Visit your Dhanlaxmi Bank home branch.
Carry your bank passbook or any identity proof document. (PAN Card or Aadhaar Card)
Speak with the bank officials.
Tell them that you want to stop the payment.
Show your identity proof document of passbook to prove your identity.
Provide the cheque numbers to the officials.
Ask about the charges that you have to pay.
If you are ok with the charges you can proceed with your request.
The bank will take your request and work on it.
Conclusion
These are the 2 methods that you can follow to cancel the payment of any cheque that you have issued. But please note that you should first know about the charges and then request the bank. And also keep in mind that you should have a proper reason to do it. For more information, you can call the customer care of the bank on 0487 661 3000. And speak with their executive.