In case you have moved to a new place or there is a change in your permanent address. Then there is a way for you to tell the same to your bank. In your case being the account holder of the Dhanlaxmi Bank. You can tell the bank that you have started staying at a new address. The bank will take your request and update the same in the bank account too. In this guide, I will tell you how you can change address in Dhanlaxmi Bank account.
There is no doubt that the bank will take your request to change the address. But it will process your request only if you offer the right address proof document. The address is one such very important aspect of the customer KYC details which can not be changed blindly by the banks. And that is the reason why the bank will ask you to provide the proper address proof document.
Steps to Change Address in Dhanlaxmi Bank Account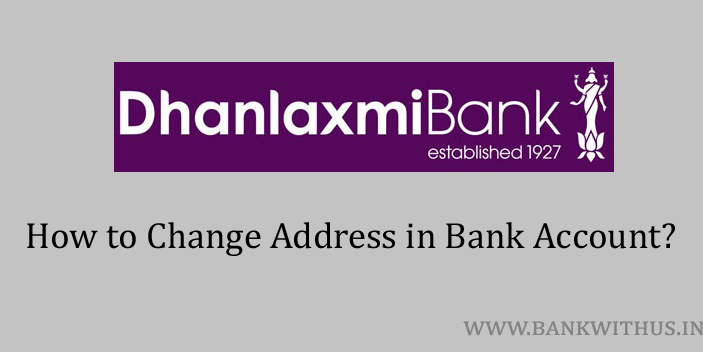 When I say address proof document I am talking about the one which certifies your new address. You can use your Aadhaar Card, Voter ID Card, Ration Card, Driving License, Passport, etc. Just make sure that it has your new address mentioned on it. The address can not be changed online using internet banking and mobile banking services. There is only one offline method using the Customer Service Request form of the bank.
Steps to Change Address in Dhanlaxmi Bank Account:
Download the Service Request Form of Dhanlaxmi Bank from its official website.
Take a clear printout of the form.
Fill the form with the details like date, your name, account number, etc. (all basic details)
Use the 24th section of the form which says "Change of Address".
Mention your new address in the space provided in the form.
Make sure you mention the address in including your house number and the area PIN code.
Check for all the details you have filled in the form.
Take a clear photocopy of your new address proof document and make your signature on it to make it self-attested.
Sign the Service Request form and attach your self-attested photocopy with it.
Now visit your Dhanlaxmi Bank's home branch and submit the form to the bank officials.
Conclusion
Once you submit the duly filled and signed form to the bank officials. They will verify the details you have filled in the form. If they find all the things to be true your request will be processed within 1 to 2 working days. But while visiting the branch of the bank make sure you take the original copy of the proof document with you. For more information about this change, you can call customer care and speak with the executive on 0487 661 3000.