If you have a bank account with the HDFC Bank and have issued a cheque using your cheque book. Then it is nothing but the order you are giving the bank to pay the payee the sum of money from your account. This will result in a debit transaction in your bank account. But what if you have changed your mind and now want to cancel this order? In this case, you can stop cheque payment in HDFC Bank.
There are a few methods by following which you can do this. If you are comfortable doing it online then there is an online method available. And if in case you want to do it offline then there is an offline method as well. I have explained both the type of method in this guide. Choose any one method which you feel is good for you and follow the instructions given below.
Methods to Stop Cheque Payment in HDFC Bank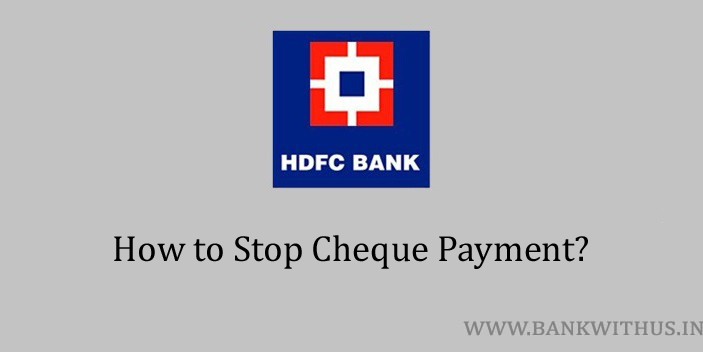 Let us start with the online method first and then learn the offline.
Using NetBanking
Steps to Stop Cheque Payment in HDFC Bank Online:
Visit the official website of the HDFC Bank.
Click on the Login button.
Select NetBanking (internet banking) and proceed further.
Read the safety message displayed to you carefully and click on the "Continue to NetBanking" button.
Enter your HDFC Bank customer ID and click on the continue button.
On the next page enter your password for a successful login.
Click on Requests → Stop Cheque Payment.
Select your bank account number → Enter the cheque number.
Verify the entered details and complete the request.
By Visiting Home Branch
Steps to Stop Cheque Payment in HDFC Bank by Visiting Home Branch:
Visit your HDFC Bank home branch.
Take your cheque book and an identity proof document with you.
Collect the "Cheque Stop Application Form".
Fill the form with all the required details.
Check the details you have entered and sign the form.
Submit the duly filled and signed form to the bank officials.
Conclusion
Also, keep in mind that the bank may or may not charge you for this service. So I recommend you to confirm the charges before you initiate the request. And when it comes to finding the cheque number, you can refer to your cheque book. You can confirm the charges by calling the customer care of the bank.
References:
https://www.hdfcbank.com/personal/useful-information/stop-payment-of-cheque
https://www.youtube.com/watch?v=WKyKAPgcP2I