HDFC Bank is one of the biggest banks operating in India. This bank has its image in the Indian banking sector. They are well known for keeping up the promises they have done to their account holders. Today I am writing this guide for those customers of HDFC Bank who want to block their ATM Card. In case you have lost your card somewhere or it is stolen then you should immediately block it.
3 methods can be followed by the account holders of the HDFC Bank to block their debit card. I will walk you through all of them. In the end, it is your choice to choose the method you want to use. It does not matter which method you use to block. What matters is your card should be blocked. So that there are no unauthorized transactions taking place using your card.
About HDFC Bank

Methods to Block HDFC Bank ATM Card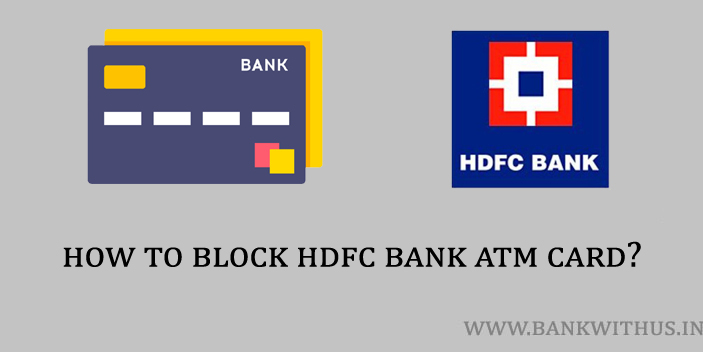 Here are the different methods you can use to block your card.
Using Internet Banking
Steps to Block HDFC Bank ATM Card using Internet Banking:
Open the official website of the bank on your desktop or laptop computer.
Go to the internet banking portal of the bank.
Enter your HDFC Bank Customer ID and click on Continue.
On the next page enter your password and click on the login button.
Click on "Cards."
Then clock on "Debit Card Hotlisting."
Select the card you wish to block.
Use the drop-down menu and choose the reason why you are blocking the card.
Enter the remarks if you have any and then click on the confirm button.
Using Mobile Banking
Steps to Block HDFC Bank ATM Card using Mobile Banking:
Download and install the official mobile banking application of HDFC Bank on your smartphone.
Enter your login credentials and login to the app.
Tap on the sidebar and select Cards.
All your cards will be displayed to you.
Select the debit card you want to block.
Lastly, select the reason and tap on confirm, your card will be hotlisted.
Calling Customer Care
Steps to Block HDFC Bank ATM Card by Calling Customer Care:
First, find the customer care number of HDFC Bank in your region.
Call the customer care and you will soon be connected to speak with one of their customer care executive.
Tell the executive that you have lost your card and want to block the same.
You will be asked a few verification questions and your card will be blocked.
HDFC Bank Phone Banking Numbers in India
| | |
| --- | --- |
| Ahmedabad | 079 61606161 |
| Bangalore | 080 61606161 |
| Chandigarh | 0172 6160616 |
| Chennai | 044 61606161 |
| Cochin | 0484 6160616 |
| Delhi and NCR | 011 61606161 |
| Hyderabad | 040 61606161 |
| Indore | 0731 6160616 |
| Jaipur | 0141 6160616 |
| Kolkata | 033 61606161 |
| Lucknow | 0522 6160616 |
| Mumbai | 022 61606161 |
| Pune | 020 61606161 |
Standard call charges may apply, it depends upon your telecom operator and the plan.
Conclusion
These are the three methods that can be used by you to block HDFC Bank ATM Card. Additionally, you can also visit your home branch and block the card. But I don't recommend that as it takes time. If you are facing any kind of difficulties then you can call the customer care of the bank. They will help you out.