If you have changed the place where you live then you should update your new address in the bank account. It is very important to receive communication from the bank. In this guide, I will tell you how you can update or change your address in HDFC Bank account.
There are two methods by following which you can change the address. In fact, there are three methods, I will tell you about the last method at the end of this article. The bank allows the account holders to change the address. But only if the account holders provide proper proof of address.
So if you have the address proof documents that certify that you are staying at your new address. Then the bank can take your request. I said, "can take your request" that is because even after you providing the document. The bank will verify it. And only if found true the bank will update the address.
Methods to Change Address in HDFC Bank Account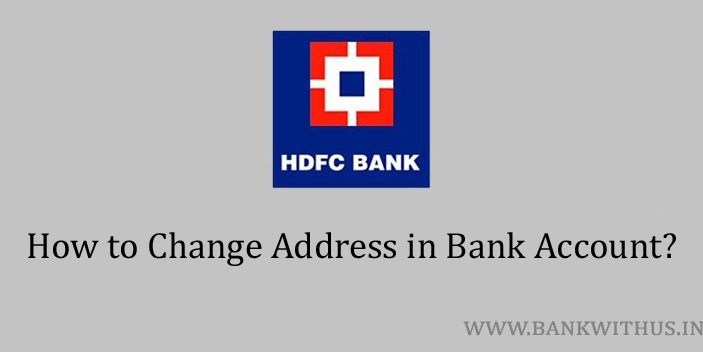 The first method is an online method and the second method is an offline method. Read both the methods and follow the one which you feel is the right one for you.
Changing Address Online
Steps to Change Address in HDFC Bank Account Online:
Visit the official website of HDFC Bank.
Click on the Login button.
Enter your account details like your username, password, and login into your account.
Click on "Update Contact Details" which can be found in the top menu of the interface.
Select "Update Address" from the contact details menu.
Read through the list of documents that are accepted as proof of document.
Now get a self-attested photocopy of the document and scan it.
Click on the "Continue" button.
Verify all the details on your screen and upload the document.
By Visiting Branch
Steps to Change Address in HDFC Bank by Visiting Branch:
Take your address proof document with the new address on it.
Get a clear photocopy of the document.
Make your signature on the photocopy to make it self-attested.
Visit any nearest branch of HDFC Bank. (prefer home branch)
Tell the bank officials that you want to update your address in the bank account.
Show your new address proof document to the officials.
The officials will then provide you a form.
Fill the form with all the details and sign it.
Submit the duly filled form and the photocopy to the bank officials.
Conclusion
These are the two methods to change your address in HDFC Bank account. The third method about which I was talking is by sending the written request by post. You have to fill the address changing form online and take a printout of it. And send the form to the nearest HDFC Bank branch.