Mini Statement is the compressed version of the bank account statement. Whereas the bank account statement consists of all the transactions that took place in your bank account for the selected period of time. But in Mini Statement, you can find the details of the last 5 transactions.
There are 2 methods that can be followed by the account holders of the HDFC Bank to get their mini statement. But you should also know that this statement is not proof of income. You can not use it for any reference in case you are applying for loans or credit cards. This is because this statement shows us the details of only the last 5 transactions of your bank account.
If you are looking for proof of income so that you can apply for a new credit card or loan. Then this is not something you are looking for. You should go with the bank account statement which is accepted as the proof of income in India. Before we learn the 2 methods to get obtain the statement. Let us know a few things about the HDFC Bank.
About HDFC Bank

Methods to Fetch HDFC Bank Mini Statement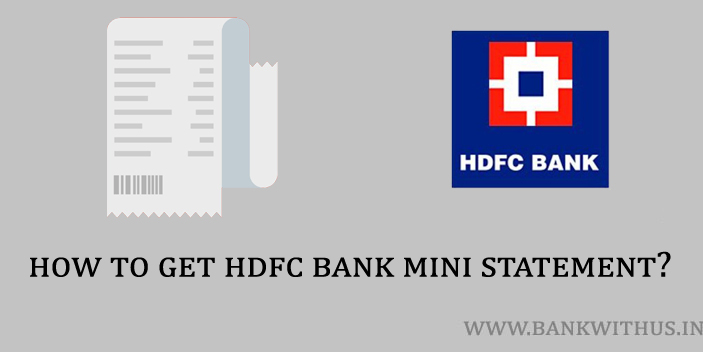 Using ATM Machine
Steps to Get HDFC Bank Mini Statement Using ATM Machine:
Find any ATM machine which is near to your location.
Insert your ATM card into the machine.
Select the language in which you want to use the machine.
After selecting the language choose the banking option from the screen.
Select the "Mini Statement."
Select if you have a savings bank account or current bank account.
You will get a printed receipt of the statement instantly.
Missed Call Banking
Steps to Get HDFC Bank Mini Statement by Missed Call: