If you have already issued a cheque using your PNB cheque book and now you have changed your mind. Then the banks in India provide you an option to stop the payment. In this guide, I will tell you some of the major methods you can follow to stop cheque payment in PNB. (Punjab National Bank)
Here you should keep in mind that the bank may charge you for this service. So before using this service I recommend you to contact the bank and ask about the charges. It is not only about the charges but you should also have a valid reason to cancel the payment.
You might end up in trouble if you request the bank to stop the payment without any reason. You can request the bank online as well as offline. I have explained both the type of methods. Now you can choose the method and follow the instructions given below.
Methods to Stop Cheque Payment in Punjab National Bank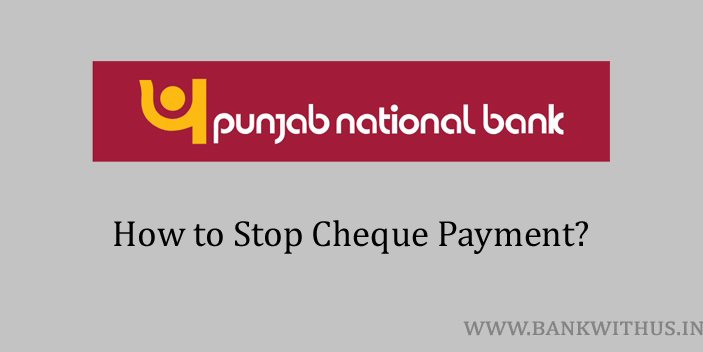 Choose the method and follow the instructions.
By Visiting Home Branch
Steps to Stop Cheque Payment in PNB by Visiting Home Branch:
Visit your PNB home branch.
Carry your bank passbook, cheque book, and identity proof document with you.
Speak with the bank officials.
Tell the officials that you want to stop the payment of the same.
Refer to your cheque book and provide the cheque number to the officials.
The officials will check if the cheque is already cleared or no.
Ask the officials about the charges you have to pay.
If you are ok with the charges then tell the officials to proceed.
The officials will take your request and the payment will be stopped.
By Sending SMS
Steps to Stop Cheque Payment in PNB by SMS:
Type an SMS as STPCHQ <space> CHEQUE NO. <space> 16 digit Account Number
And send this SMS to 5607040 from your registered mobile number.
The bank will take your request.
If the cheque is not cleared yet then the bank will process your request.
You will get a confirmation SMS from the bank.
Using Mobile Banking App
Steps to Stop Cheque Payment in PNB using Mobile Banking App:
Download and Install the official mobile banking app of Punjab National Bank.
Open the app after installation.
Enter your login details into the app.
Once you have logged in tap on "Cheques".
Select the "Stop Cheque Payment" option.
Enter the cheque number(s) and follow the on-screen instructions.
Conclusion
These are some methods that can be followed by the account holders. If you have any kind of doubts in your mind then you can call the customer care of the bank. The toll-free number of the bank is 1800 180 2222. Always keep in mind that the bank officials will never call you and ask for details like your username, password, and OTP, etc. Never share such details of your bank account with anyone.