If you have issued a cheque to someone using your RBL Bank cheque book. And now you want to know the current status of the same. Then you can do that, the bank allows the account holders to do it in a number of ways. In this guide, I have explained a few methods by following which you can check RBL Bank cheque status.
Methods to Check RBL Bank Cheque Status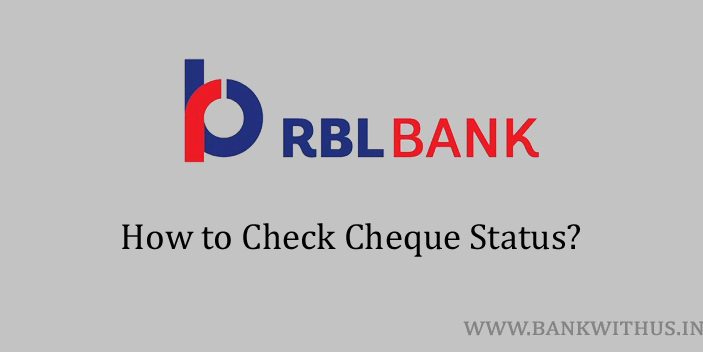 You can find both online methods and offline methods explained below. Choose any method and follow the instructions to find out the current status.
By Sending SMS
Steps to Check RBL Bank Cheque Status by Sending SMS:
Type an SMS as CHQSTA <space> Customer ID <space> Account Number <space> Cheque Number
And send this SMS to 9223366333.
The SMS should be sent from your registered mobile number only.
Bank's automated system will check the status after your SMS is sent.
You will receive an SMS back from the bank containing the current status of the cheque.
Using Mobile Banking App
Steps to Check RBL Bank Cheque Status using Mobile Banking App:
Download and Install the official mobile banking app of RBL Bank.
If you are using an Android device then install the app from Google Play Store.
And in case you are an iOS user then install the app from iTunes Store.
Open the app after installation.
Enter your login details into the app.
After your successful login into the app look for "Service Requests" in the app.
In service requests select "Cheque Status".
Enter the cheque number.
Tap on the submit button and the status will be shown to you.
Using Internet Banking
Steps to Check RBL Bank Cheque Status using Internet Banking:
Visit the official website of RBL Bank.
Click on the Login Button.
Select between Personal and Corporate Banking.
Enter your User ID (username) and click on the Next button.
On the next screen enter your password, solve the captcha if any.
Look for Requests and Services.
Select Cheque Status from there.
Enter your cheque number.
And follow the on-screen instructions to check the status.
Conclusion
These are the 3 methods that can be followed by the account holders of the RBL Bank. The fastest method is by sending the SMS. You can choose the method based on your convenience. For more information, you can call the customer care of the bank on 022 6115 6300. And speak with the customer care executive of the bank.