Bandhan Bank is one of the many private sector banks that are operating in India. This bank was started in the year 2015. And currently, in the year 2020, they have 4,559 outlets across India. You can find the headquarters of this bank based in Kolkata, West Bengal. In this article of mine, I will tell you how you can check Bandhan Bank Account balance.
I have already told you how you check your bank account balance by giving a missed call. But that is not the only method you can use. There are still other methods that can be used to get details of your remaining balance. I will be explaining all of them in the further part of this article.
Methods to Check Bandhan Bank Account Balance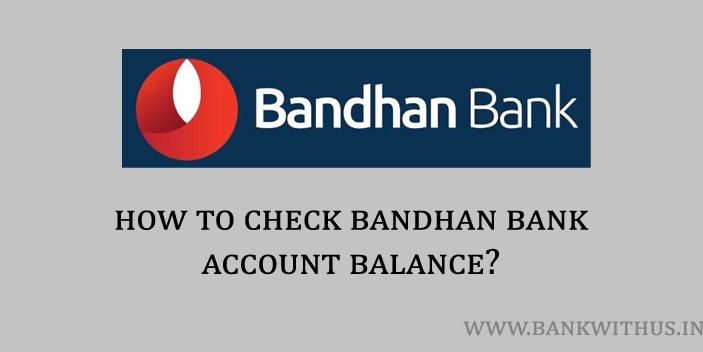 How to Check Bandhan Bank Account Balance?
To check your Bandhan Bank account balance give a missed call to 9223008666.
Using the ATM Machine
Steps to Check Balance using ATM Machine:
Find any of the ATM Machines near your location.
Insert your Bandhan Bank ATM Card into the machine.
Enter your 4 Digits PIN Number.
Select the "Balance Enquiry" option from the ATM Machine's Screen.
Now select the type of your bank account. (Savings Account or Current Account)
Your remaining bank account balance will be displayed on the screen.
Printing Bank Passbook
Steps to Check Balance using Bank Passbook:
Take your Bandhan Bank Account's Bank Passbook.
Visit your home branch.
Find the passbook printing counter.
Submit your bank passbook for printing your latest transactions.
Once printed your remaining account balance will be printed beside your most recent transaction.
Calling the Customer Care of the Bank
Steps to Check Balance by Calling the Customer Care:
Call the customer care of Bandhan Bank on 1800 258 8181.
Choose the Language in which you would like to interact.
Select the IVR option to know your account balance.
The IVR system will speak out your remaining balance in the language you have selected.
Using the Mobile Banking Application
Steps to Check Balance Using Mobile Banking Application:
Enter your login credentials, if you have already registered for the app, enter your MPIN.
Select the bank account whose balance you want to know.
The remaining account balance of the selected account will be displayed on your smartphone's screen.
Using Internet Banking Portal
Steps to Check Balance Using Internet Banking:
Visit the official website of Bandhan Bank.
Click on the "Online Banking" link.
Select Personal or Corporate internet banking.
Read the terms and conditions and click on "Continue to Login button."
Enter your Bandhan Bank User ID (username) and Password.
Once you login to the internet banking portal, select your bank account.
The balance of the selected bank account will be displayed to you on the screen.
Conclusion
These are various ways to check Bandhan Bank account balance. You should make sure that you never share details like your username, password, OTP, etc. with anyone. And no one from the bank will ever call you asking for these details. If you receive such calls you should not respond to them.