When you issue a cheque using your cheque book, you are giving the bank instructions to the bank. It is the instructions to pay the sum of money you have in your bank account. But later if you realize you want to cancel the cheque. Then you can use this guide to do it. In this guide, I have explained to you how you can stop cheque payment in South Indian Bank.
Here you should keep two things in your mind. The first one is you will be able to stop the payment only if the cheque is not been cleared yet. And the second thing is you should have a proper reason to do this and the bank may charge you. For the exact amount of charges, you can refer to the schedule of charges on the official website of the South Indian Bank.
Methods to Stop Cheque Payment in South Indian Bank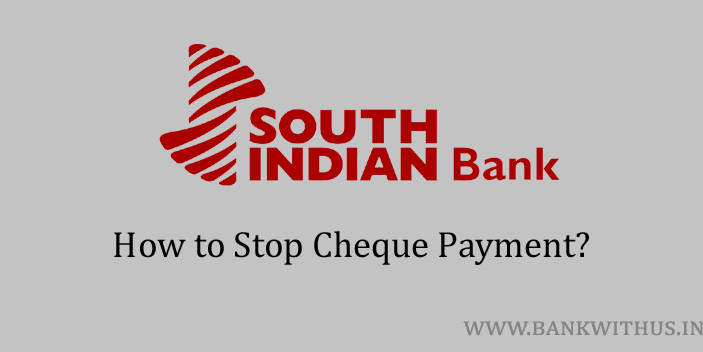 You can stop the payment online using the mobile banking app. And offline by visiting your home branch. I have explained both the methods below. You can choose any method and follow the instructions.
Using Mobile Baking App
Steps to Stop Cheque Payment in South Indian Bank Online:
Download and Install the Official Mobile Banking App of South Indian Bank.
Open the app.
Enter your login details into the app.
Tap on Requests.
Select Cheque Book from the requests.
Now choose Stop Cheque Payment.
Enter the cheque number whose payment you want to stop.
Check the cheque number you have entered.
If there are no mistakes proceed with the on-screen instructions.
From Home Branch
Steps to Stop Cheque Payment in South Indian Bank Offline:
Collect your bank passbook or any identity proof document.
Visit your home branch.
Speak with the bank officials.
Tell the officials that you want to stop the payment of the cheque which you have issued.
Provide the cheque number to the bank officials.
The bank officials will check if the cheque has been already cleared or no.
If the cheque is not cleared yet the officials will tell you about the charges applicable.
Give your consent to the officials.
The officials will take proper steps to cancel the payment.
Conclusion
These are the two methods you can use. But make sure that the cheque is not cleared yet. If you already have a debit transaction in your account made by the cheque. Then there is no sense in stopping the payment. For more details, you can contact the customer care of the bank. The toll-free number of the bank is 1800 425 1809. The customer support executive of the bank will be able to explain these things to you better.