When you request a mini statement from your bank. You will get the details of the last few transactions that you have done using your bank account. This statement includes both debit and credit transactions. In this guide of mine, I will tell you different methods to get the TMB mini statement.
Methods to Get Tamilnad Mercantile Bank Mini Statement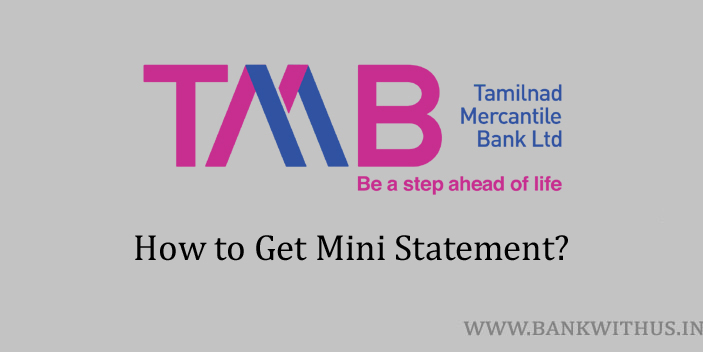 You can get this statement online as well as offline. I have explained all the methods below. You can choose any method and follow the instructions.
Using Internet Banking
Steps to Get Tamilnad Mercantile Bank Mini Statement Online:
Visit the Official Website of the Tamilnad Mercantile Bank.
Click on the Internet Banking button.
On the next page click on the Login button.
Read the safety tips carefully and click on the Continue to Login button.
Solve the captcha and click on the Login button.
Now look for the Mini Statement option.
Select the bank account number.
The statement for the selected account will be displayed to you on the screen.
By Giving Missed Call
Steps to Get Tamilnad Mercantile Bank Mini Statement by Missed Call:
Using ATM Machine
Steps to Get Tamilnad Mercantile Bank Mini Statement Using ATM:
Locate the ATM machine that is near to your location.
Visit the ATM Machine.
Insert your TMB ATM Card into the machine.
Enter your ATM PIN Number.
Choose the language in which you want to use the machine.
Select Mini Statement from the screen of the machine.
The machine will not ask you to select the type of account you have with the bank. (Savings or Current)
The machine will process your request.
You will get a printed receipt out of the machine which is your statement.
Conclusion
These are the methods that can be followed by the account holders of the TMB to get their statements. Make sure you don't share sensitive information about your account with anyone. And the bank officials will never contact you asking for such details. For more information, you can call the customer care of the bank on 0461-2383342 or 2383343.