There are a lot of details of the account holder that are recorded by the banks. One of them is the name of the account holder which is a very important aspect. In this guide, I will tell you how you can change name in Tamilnad Mercantile Bank account.
Here you should keep one thing in your mind. And that is the name of the customer or the account holder is a very important part of the KYC. So you will not be allowed to change it with just an application to the bank. Along with the application, you should submit supportive documents to the bank.
If you have changed your name legally. Then you can use the name change notification document for this purpose. And in case if you have changed your name after marriage or divorce. Then you can use those documents for this purpose.
But in case if there is a spelling mistake in your name. Then you will just need to have the document that spells your name correctly. The bank will not ask you to submit the original copy of the document. You just have to submit the photocopy which is self-attested by you.
But before you visit the home branch of the bank make sure you have the documents ready with you. Along with the photocopy, you should also carry the original copy with you. The bank officials will ask you to show the original copy for the purpose of verification.
Steps to Change Name in Tamilnad Mercantile Bank Account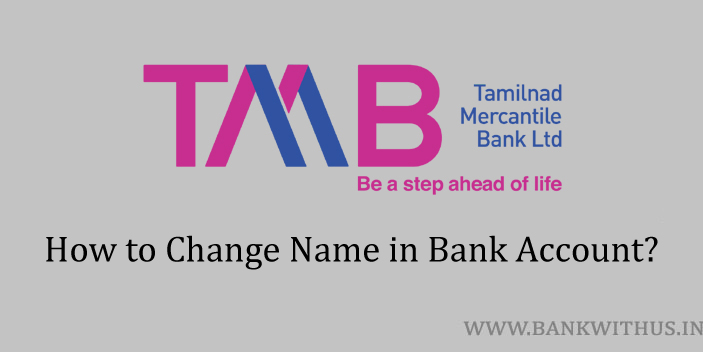 Take a sheet of paper and start writing an application letter.
The letter you are writing should address the branch manager of your Tamilnad Mercantile Bank's home branch.
The subject of the letter should be "Request to Change Name in the Bank Account".
After the subject line, you have to mention your account number, old name, new name, and the name of the document that you are using.
Now get a clear photocopy of your document and attach it with your application letter.
Visit the home branch of your bank.
Submit the application letter to the officials and finally show your original document to the officials.
Conclusion
This update you are making is subject to verification of your document by your bank. So you will have to cooperate with the bank officials. For more information, you can call the customer care the bank on 1800 425 0426. (toll-free)