Tamilnad Mercantile Bank is very well known as TMB among the account holders. It is one of the best banks in Southern India. If you are one of their account holders and want to stop the cheque payment then this guide is for you. Because you can find every step you need to follow to stop cheque payment in Tamilnad Mercantile Bank.
There are two methods you can follow. The first one is online in which we will be using the official mobile banking application of the bank. And the second is by visiting your home branch. In this method, you will have to visit the branch where you had opened the account and maintain it. The bank officials will help you to stop the payment.
Methods to Stop Cheque Payment in Tamilnad Mercantile Bank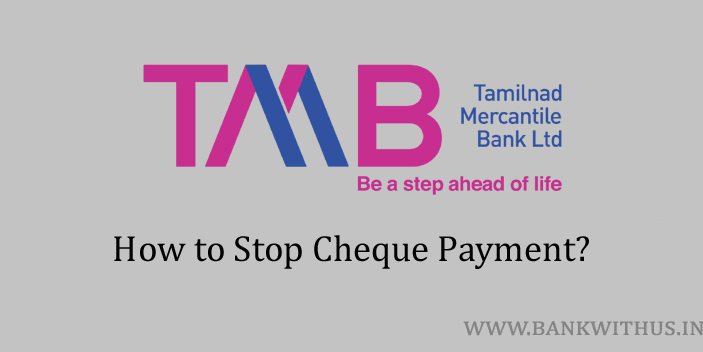 Both the online method and the offline method are explained below. You can choose any method and follow the instructions.
Using Mobile Banking App
Steps to Stop Cheque Payment in Tamilnad Mercantile Bank using Mobile Banking App
Download and Install the official mobile banking app of the TMB.
Android users can install the app from the Google Playstore.
And iOS users can install it from the iTunes Store.
Open the app after installing.
Enter your login details.
Select "Requests" from the screen.
Choose "Stop Cheque Payment" from the list of requests.
Enter the details of the cheque.
Tap on the Confirm button and follow the on-screen instructions.
By Visiting Home Branch
Steps to Stop Cheque Payment in Tamilnad Mercantile Bank from Home Branch:
Take your cheque book, bank passbook with you.
Visit your TMB home branch.
Go to the help counter of the branch.
Tell the bank officials that you want to stop the cheque payment.
Provide the cheque number(s) to the officials.
Ask the officials about the charges.
The officials will check if your cheque is encashed or no.
If the cheque is not cleared yet then the officials will take your request.
The payment will be stopped by the bank.
Conclusion
The bank allows you to stop the payment. But also keep in mind that the bank may or may not charge you for this service. So it is always recommended to check the charges before you use this service. You can ask the bank officials at the home branch or call the customer care of the bank on 180 0425 0426. (toll-free)