ICICI Bank is one of the leading private sector banks in India. This bank is well known for the new technologies they introduce for their account holders. And constantly improve the current technological offering they have for their account holders.
ICICI Bank has more than 84,000 people working in more than 5,000 branches across the globe. I will be telling you more about the ICICI Bank in the further part of this guide. This guide is for those people who have a bank account with the ICICI Bank and want to check their remaining balance.
There are multiple methods that can be followed by you to check ICICI Bank account balance. I have collected all those methods and mentioned those in this guide. We have already learned how you can check your bank account balance by giving a missed call.
Other than the missed call method there are other methods too which can be utilized by you to check the balance. There are both online as well as offline methods. Here if you choose to use the online method then you will need an internet connection and a smart device as well. For offline methods, you need ATM Card and your bank passbook.
About ICICI Bank
Steps to Check ICICI Bank Account Balance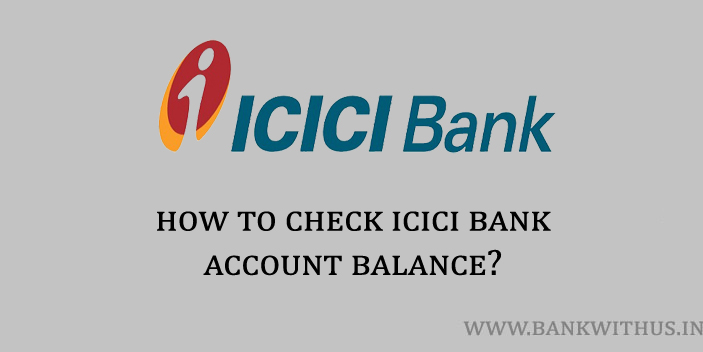 How to Check ICICI Bank Account Balance?
To check your ICICI Bank account balance give a missed call to 9594 613 613.
ATM Machine
Steps to Check Balance Using ATM:
Find any ATM machine which is near to your current location.
Visit the ATM machine or center.
Insert your ATM card into the machine.
Enter your 4 digits PIN number.
Choose the balance enquiry option from the screen.
Select the type of your bank account. (Savings or Current account)
Choose if you want to view the balance on the screen or wish to get a printed receipt.
Bank Passbook
Steps to Check Balance Using Bank Passbook:
Take your bank passbook and visit your home branch.
Go to the passbook printing counter and submit your passbook.
Tell the bank official the period of time whose transactions you want to be printed.
Get the transactions printed in your passbook.
Your remaining account balance will be printed just beside your last transaction.
Internet Banking
Steps to Check Balance Using Internet Banking:
Visit the official website of the ICICI Bank using your desktop or laptop computer.
Select the internet banking option on the website.
The balance of all your account(s) will be displayed to you on the user's homepage of internet banking.
Mobile Banking
Steps to Check Balance Using Mobile Banking:
Download and install the official mobile banking application of the ICICI Bank on your Smartphone.
If you use an Android device install from Google PlayStore and in the case of iOS install it from iTunes.
Once installed open the application.
Enter your login credentials. If you already have your login pin then enter it.
After a successful login, you will be able to see the remaining account balance in the application.
SMS Banking
Steps to Check Balance Using SMS Banking:
Type an SMS as IBAL
And send it to 9215676766 from your registered mobile number.
You will receive an SMS from the bank with your remaining account balance mentioned.
Customer Care
Steps to Check Balance by Calling Customer Care:
Call the customer care of the bank on their toll-free number: 1860 120 7777.
Select the language in which you would like to interact.
Now select the IVR option to know your account balance.
The IVR system will speak out your remaining account balance in the language you have selected.
Conclusion
These are the various methods that can be used by the ICICI Bank customers to check their remaining account balance. If you are facing any difficulties then you can always talk to the customer care executive of the bank. They will help you out with your issue.