If you have lost or misplaced your debit card or ATM card somewhere. Then you should take immediate steps to block it. It is always recommended that you block the card as soon as you realize that you have lost it. This guide will explain to you the different methods that the account holders can use to block your IDBI Bank Card quickly.
Methods to Block IDBI Bank ATM Card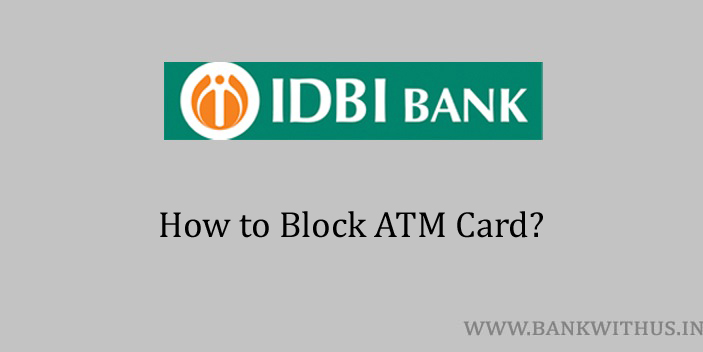 There are multiple methods that include both online methods and offline methods to block the lost card. All the methods have been explained below. Choose any one method and follow the instructions to block it. However, the fastest method to block the lost card is by sending SMS.
By Sending SMS
Steps to Block IDBI Bank ATM Card by Sending SMS:
Type an SMS as BLOCK <space> Customer ID
And send this SMS to 5676777 from your registered mobile number.
If you have typed the correct keyword and customer id then your card will be immediately blocked.
Using Internet Banking
Steps to Block IDBI Bank ATM Card Online:
Visit the Official Website of the IDBI Bank.
Click on the Internet Banking login button.
Enter your Customer ID.
Enter your password and click on the login button.
Click on Cards.
Select Debit Card Hotlisting.
Now select the debit card number.
Choose the reason why you are blocking the card.
Enter your transaction password and click on the confirm button.
Using Mobile Banking
Steps to Block IDBI Bank ATM Card using Mobile Banking:
Download and Install the Official Mobile Banking Application of IDBI Bank. (Go mobile+)
Open the app.
Enter your login details and proceed with the login.
Tap on Cards.
Then tap on "Debit Card Hotlisting".
Choose the Debit Card Number using the drop-down menu.
Enter your remarks. (reason to block)
Enter the received OTP and tap on the Block button.
Conclusion
This is how you can block your card if you have lost or misplaced it somewhere. The bank will not charge you anything to block the card. But you will be charged for the replacement card. I recommend you to call the customer care of the bank at 1800 209 4324. (toll-free) And ask the support executive about the charges.