Lakshmi Vilas Bank or simply know as LVB is one of the leading banks in India. And if you have an account with this bank then you will have access to services like internet banking, mobile banking, ATM card, cheque book, etc. But what if you have lost your ATM card somewhere? In that case, you should immediately block it. You can refer to this guide to learn different methods to block Lakshmi Vilas Bank ATM Card.
Methods to Block Lakshmi Vilas Bank ATM Card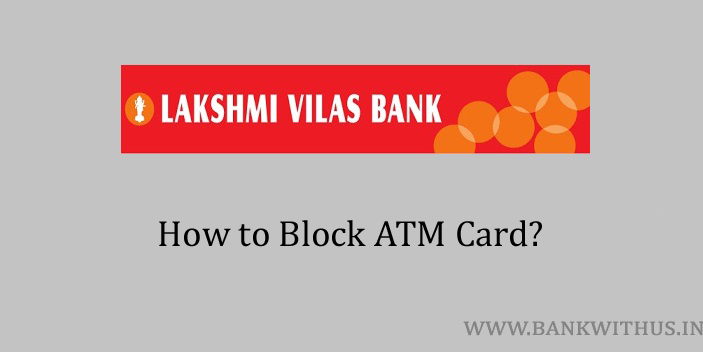 There are both online methods and offline methods to block the lost or stolen card. You can choose any method and follow the instructions.
By Calling Customer Care
Steps to Block Lakshmi Vilas Bank ATM Card by Calling Customer Care:
Call the customer care of Lakshmi Vilas Bank on 1800 425 2233.
Select the IVR option to choose your language.
Later on, choose the IVR option that will connect you to speak with the executive of the bank.
Tell the executive that you have lost your card and want to block it.
The executive will ask you a few questions about your bank account for verification purposes.
Answer all the questions correctly.
Tell the last 4 digits of your card number to help the executive to locate your card.
Once the lost card is located the executive will ask you to confirm your request.
Confirm the request and your card will be blocked permanently.
Using Mobile Banking App
Steps to Block Lakshmi Vilas Bank ATM Card using App:
Download and Install the official mobile banking app of LVB.
Open the app after installation.
Enter your login details into the app.
Once you have successfully logged in tap on "Other Services".
Select "ATM Card Services"
Choose "Block Card"
All the debit cards or ATM Cards linked to your account will be displayed to you.
Select the debit card number of the lost card.
Follow the on-screen instructions to block the card.
Conclusion
These are the 2 methods, the first one is offline and the second one is online. Other than these 2 methods you can also use internet banking and visit your home branch of the bank. If you are facing difficulties then you can take the help of the bank officials at your home branch. They will be happy to help you.