If you want to get the details of the last few transactions you have done using your bank account. Then the mini statement is the best way to do it. And in this guide of mine, I will tell you how you can get Lakshmi Vilas Bank mini statement.
Methods to get Lakshmi Vilas Bank Mini Statement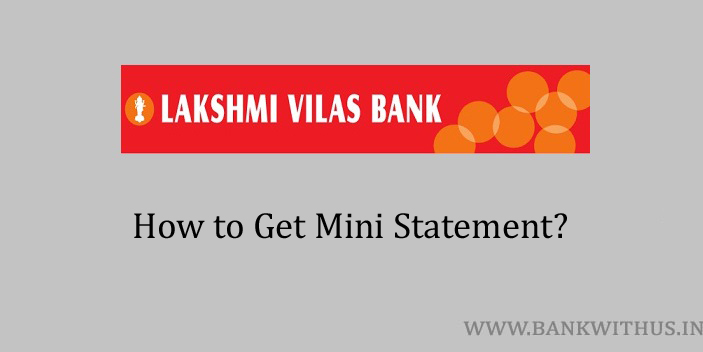 There are multiple methods that can be followed to get the statement. And I have explained a few of them below. You can choose any one of the methods and follow the instructions.
Using ATM Machine
Steps to Get Lakshmi Vilas Bank Mini Statement Using ATM Machine:
Locate the nearest ATM machine near your location.
Visit the ATM machine.
Insert your ATM card into the machine.
Choose the language in which you want to use the machine.
Enter your 4 digits PIN number.
Select the "Mini Statement" option from the screen.
The machine will ask you to choose the type of account you have.
Choose your type of account.
The machine will process your request and you will get a printed receipt out of the machine.
By Sending SMS
Steps to Get Lakshmi Vilas Bank Mini Statement by SMS:
Type an SMS as LVB <space> TXN <space> Customer Number
And send this SMS to 9282441155 from your registered mobile number.
The bank's automated system will respond to your request.
You will receive an SMS from the bank containing the statement shortly.
Using Mobile Banking App
Steps to Get Lakshmi Vilas Bank Mini Statement using Mobile Banking App:
Download and Install the official mobile banking app of Lakshmi Vilas Bank.
Open the app after installation.
Enter your login details into the app.
After successful login tap on "My Account".
You will be able to view your recent transactions in my account section.
Conclusion
These are the 3 methods to get your statement. The ATM machine method is free if you have free usage of ATM card left for the month. And when it comes to the SMS method your telecom operator may charge you for the SMS you send.
References:
https://www.lvbank.com/UserFiles/File/SMSBankingMessageFormats_New.pdf
https://play.google.com/store/apps/details?id=com.lvbmobile&hl=en_IN&gl=US