Bank of Maharashtra is one of the state-owned banks that have branches across India. If you are one of their account holders and have lost your ATM card. Then this guide is tailored for you. You can refer to this guide and block Bank of Maharashtra ATM Card.
In case you have lost the card somewhere then you should take immediate steps to block the card. Because your card can be misused by someone who gets the card. There are advantages of debit cards or ATM cards. But at the same time, the card is dangerous too.
If you have an international card then sometimes the transactions are processed even without entering the PIN number. So you should be very careful about it. Along with this thing even if you have a tap and pay card then it is even more dangerous.
Because the tap and pay cards allow the cardholders to just tap the card on the POS machine. And the money will be deducted from the bank account instantly. This feature can be used for transactions with a maximum of Rs. 2,000 INR. These are just two reasons why you should block the card as soon as you realize that you have lost it.
Methods to Block Bank of Maharashtra ATM Card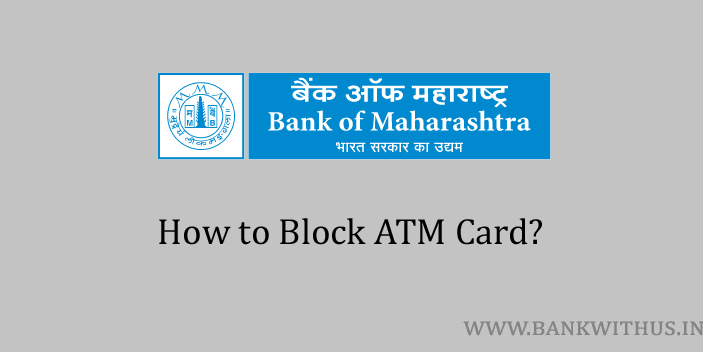 There are is an online method and an offline method to block the card. I have explained both the methods below.
Using Mobile Banking App
Steps to Block Bank of Maharashtra ATM Card Online:
Download and Install the official mobile banking app of Bank of Maharashtra. (Maha Mobile)
Open the app.
Tap on "Card Services".
Select Block Lost Card.
Now all the ATM cards issued to your account will be displayed in a list.
Select the card you have lost and want to block.
Click on "Block".
And follow the on-screen instruction.
Calling Customer Care
Steps to Block Bank of Maharashtra ATM Card by Calling Customer Care:
Call the customer care of the bank at 1800 233 4526 or 1800 103 2222 or 020-24480797.
Your call will be connected to speak with the customer care executive of the bank.
Tell the executive that you have lost the card and want to block it.
Follow the instructions given to you by the executive to block the card.
Conclusion
These are the two methods that can be used by you to block the Bank of Maharashtra ATM Card. The bank will not charge you to block the card. But you will have to pay the replacement charges. To know the exact amount of charges I recommend you to contact the bank by phone or visit your home branch in person.