You can use the Bank of Maharashtra Mini Statement to get the details of the last 5 transactions that happened in your bank account. This guide is for the account holders of the bank who want to know the procedure to get this statement. You should keep in mind that you will not get details of more than the last 5 transactions. And you can not use this statement as income proof.
Methods to Get Bank of Maharashtra Mini Statement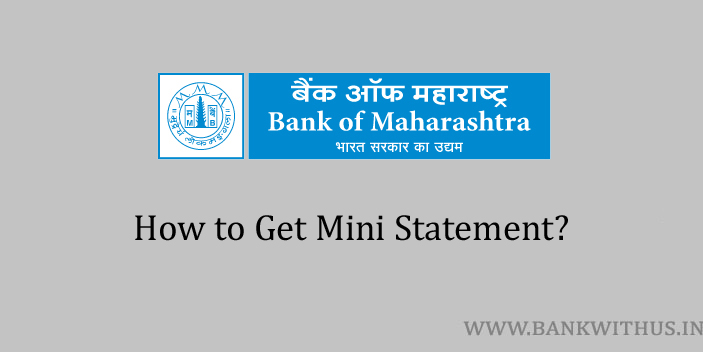 There are 3 methods by following which you can get your statement. All the methods are offline and there is no online method that can be used.
Using ATM Machine
Steps to Get Bank of Maharashtra Mini Statement using ATM Machine:
Find any ATM machine that is near your location.
Visit the ATM machine.
Insert your ATM card into the machine.
Select the language in which you want to use the machine.
Enter your 4 digits ATM PIN Number.
Select the "Mini Statement" option from the screen of the machine.
Choose the type of account you have with the Bank of Maharashtra.
Wait a few seconds for the machine to process your request.
You will get the printed receipt out of the machine which is your statement.
Giving a Missed Call
Steps to Get Bank of Maharashtra Mini Statement by Missed Call:
Sending SMS
Steps to Get Bank of Maharashtra Mini Statement by Sending SMS:
Type an SMS as LATRAN <space> Bank Account Number <space> MPIN.
Send this SMS to 9223181818 from your registered mobile number.
The bank will send you an SMS containing your statement.
Conclusion
These are the 3 methods that can be followed by you. The bank will not charge you anything to get the statement by sending SMS and by giving a missed call. But your telecom operator may charge you as per standard SMS charges. And when it comes to the ATM method. It totally depends upon the number of times you have used your card in the month. For more details about the ATM, charges call the customer care of the bank at 1800 233 4526. (toll-free) And speak with the customer care executive of the bank.