If you want to get the details of the last few transactions you have done using your bank account. Then the mini statement is the thing you can use. When you request your bank to provide you with the mini statement. You will get the details of the last 5 transactions of your account. In this guide, I will tell you how you can get Punjab and Sind Bank mini statement.
Methods to Get Punjab and Sind Bank Mini Statement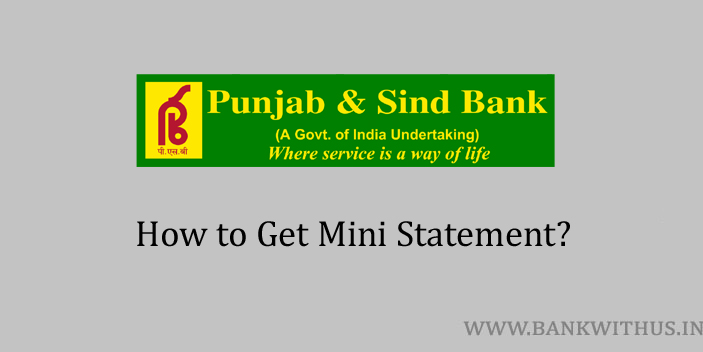 There are different methods that can be used by you to get your mini statement. I have explained a few methods below. Choose any method and follow the given instructions. The first method is by using the ATM machine. If you have already used up all your free ATM usage then probably the bank will charge you. In case you have not used all your usage then you won't be charged anything.
Using ATM Machine
Steps to Get Punjab and Sind Bank Mini Statement using ATM Machine
Find the ATM machine of any bank near you.
Visit the ATM machine.
Insert your ATM card into the machine.
The machine will ask you to select the language in which you want to use the machine.
Choose the language.
Enter your 4 digits PIN number into the machine.
Select the "Mini Statement" option from the screen of the machine.
Choose the type of account you have with Punjab and Sind Bank.
The machine will process your request and you will get a printed receipt out of the machine.
Using USSD Banking
Steps to Get Punjab and Sind Bank Mini Statement using USSD:
Conclusion
These are the 2 methods that can be followed by you. When you are at the ATM machine to get your statement then you should not share details of your card like card number, expiry date, PIN, etc. with anyone. These details should be always kept confidential for security purposes.