Block Maybank Debit Card: Do you have a bank account with Maybank? That's really a great thing. Because Maybank is one of the largest banks which is operating in Malaysia. You have your bank account as well as the money in your bank account in safe hands. When we open a bank account Maybank we also get a debit card or ATM card which we can use to withdraw money from our Maybank account. Almost everyone who opens a bank account with this bank gets a Maybank debit card.
And it is one of the most important things to have as well. If you don't have your debit card then you will face difficulties when you want to withdraw the money from your bank account. But since we have got the Maybank debit card this is not a problem for us.
We can withdraw the money from our bank account during any time of day and even on holidays. We just have to find an ATM machine which is near to our location and we are good to go.
But have you ever thought what will happen if you lose your Maybank debit card somewhere?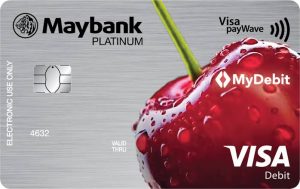 If not then let me tell you what might happen if you have lost your debit card.
Anyone who finds your debit card might end up using it ultimately you are going to lose your money. So what can you do to avoid this loss of money?
You need to block Maybank debit card immediately if you have lost the card. In this guide, we will be telling you the procedure which you need to follow to block Maybank debit card.
About Maybank

Head Office Address
Malayan Banking Berhad
Level 14, Menara Maybank
100 Jalan Tun Perak
50050 Kuala Lumpur
Malaysia
Type of Bank
Publicly traded government-linked company
Founded
1960
Founder
Khoo Teck Puat & Oei Tjong Ie
CEO (2019)
Abdul Farid Alias
Chairman (2019)
Mohaiyani Shamsudin
Number of Employees
45,000
Website
www.maybank.com
Revenue (2017)
RM45.58 billion
Operating Income (2017)
RM23.37 billion
Net Income (2017)
RM11.91 billion
Total Assets (2017)
RM765.0 billion
How to Block Maybank Debit Card? (When Lost or Stolen)
As we have already discussed what will be the consequences if your lost Maybank debit card goes into wrong hands. And that is the reason why you should block your Maybank card to avoid the misuse of the card. You need to follow the below-mentioned steps to block Maybank Debit Card.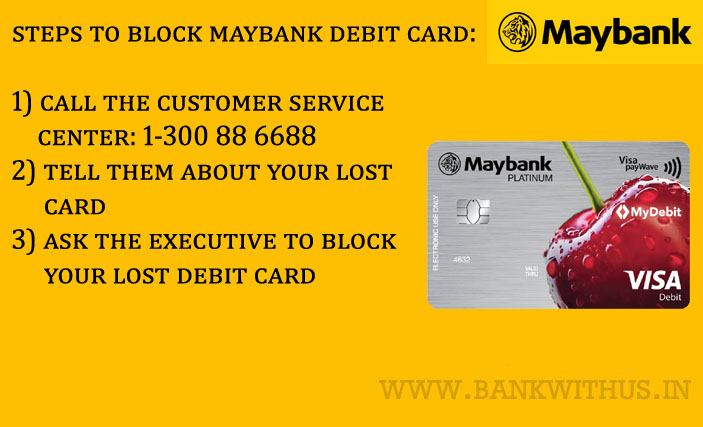 Steps to Block Maybank Debit Card by Calling Customer Service Center:
Call the customer service of Maybank on 1-300 88 6688.
Tell the customer service executive that you have lost your debit card.
Inform them about the card number.
Inform that you want to block the card which you have lost.
Answer the account verification questions and your card will be blocked.
Steps to Block Maybank Debit Card by Visiting Branch
Visit any of the Maybank branches near you.
Tell the bank officials that you have lost your debit card.
Provide them the details of your debit card.
And request the bank officials to block your card.
Conclusion
These are the two methods that you can follow to block Maybank debit card. I hope you are clear with the information that is mentioned in this guide. If you are facing any difficulties then you should consider calling the customer care of the bank. And you should note one thing, this website (Bank With Us) is not the official website of Maybank and we are in not terms connected with the bank. The information provided here is only for educational purposes.
FAQ: Frequently Asked Questions about Maybank Debit Card
How can I use my Maybank Debit Card?
You can use your Maybank debit card just like any other debit card. Just go to any of the ATM machines that are near to you, insert your debit card and follow the instructions that are displayed on the screen.
How can I increase my debit card limit Maybank?
You can increase the limit of your Maybank debit card by logging into your internet banking account. Click on Card Management and then on Debit Card Purchase Limit, select the limit and click on confirm.
What is Maybank debit card?
Maybank debit card is one of the plastic cards that is Powered by VISA which helps you to withdraw money from your bank account without having to visit the branch of the bank.
How do I activate my Maybank Visa debit card online?
There is no need for activating your Maybank VISA Debit card online. You can use it in any of the ATM machines which are near to your location.