If you have issued a cheque to someone using your Jammu and Kashmir Bank Cheque Book. And now you have changed your mind to cancel the payment. Then there is good news for you. The bank lets you do that. In this guide of mine, I will tell you how you can stop cheque payment in J&K Bank.
But it is highly recommended that you stop the payment only when you have a valid reason to do it. And also keep in mind that the bank will charge you for this service. So before you use this service you should contact the bank and ask them the exact amount you will be charged for this service.
Methods to Stop Cheque Payment in J&K Bank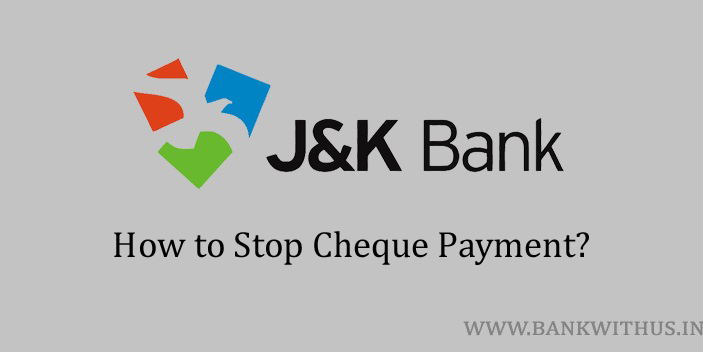 You can do this online as well as offline. I have explained both the methods below. Choose any method and follow the instructions.
Using Mobile Banking App
Steps to Stop Cheque Payment in J&K Bank using Mobile Banking App:
Download and Install the Official Mobile Banking app of Jammu and Kashmir Bank.
Android users can install it from Google Playstore.
And iOS users can install the app from the iTunes Store.
Open the app after the successful installation.
If you have already installed the app then log in using your PIN.
Tap on "Requests" from the welcome screen of the app.
Select "Stop Cheque Payment" from the lists of requests.
Enter your cheque details and follow the on-screen instructions given to you.
By Visiting Home Branch
Steps to Stop Cheque Payment in J&K Bank by Visiting Home Branch:
Visit your home branch of J&K Bank.
Speak with the bank officials.
Tell the officials that you want to stop the payment of the cheque you have issued.
Provide the cheque number to the officials.
Ask the officials the exact amount you will be charged.
If you are ok with the charges then raise your request.
The officials will stop the payment if the cheque has not been cleared yet.
Conclusion
These are the two methods that can be followed by you. If the cheque has already been cleared resulting in a debit transaction in your bank account. Then you can not do anything. For more information, call the customer care of the bank on their toll-free number: 1800 1800 234. And speak with their executive.