If you have issued a cheque to someone and want to know the status of clearance then you can do that online. In this guide of mine, I will tell you the steps that you need to follow to check cheque status in Standard Chartered Bank. I will not be telling you about any offline methods like visiting the home branch, etc. But instead, I will tell you how you can make use of internet banking to check the status.
To follow this guide you will need to have access to the internet banking of your account. If you have not activated it yet. Then you can do that in 5 to 10 minutes of time on the official website of the bank. But please keep in mind that you should never share any of your bank account details with anyone. And you should not enter any of your account details on any of the third-party websites as well.
Steps to Check Cheque Status in Standard Chartered Bank Online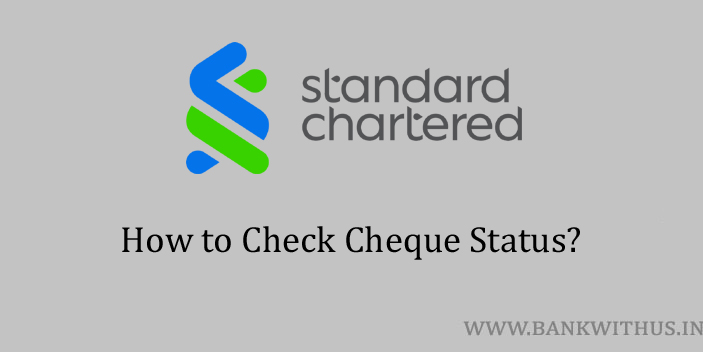 If you have issued a cheque whose value is equal to or more than Rs. 50,000. Then you should also take into account the positive pay system. To check the status follow the instructions given below.
Steps to Check Cheque Status in Standard Chartered Bank Online:
Visit the official website of Standard Chartered Bank India.

Click on the "login" button and select "Online Banking Login".
Solve the captcha (security check) and click on the "Login" button.
The bank will send you an OTP via SMS on your registered mobile number.

Enter the OTP and click on the "Confirm" button.

Click on "Accounts" from the left sidebar of the internet banking interface.

Select "Cheque Status".

Select your bank account number, enter the cheque details, and click on the "View Status" button.
Note:
If you want to search for a single cheque, enter the same cheque number in both fields in Cheque Number Range (From & To). If you do not remember the cheque number, please enter 000001 in the From field and 999999 in the To field.
The cheque status available is only for cheques issued after February 23rd, 2009. For the status of cheques issued prior to this date, please call Phone Banking or visit your nearest branch.
You can find your cheque number by referring to your cheque book.
Conclusion
This is how simple it is to know the current status of the cheque issued by you. If you are facing any kind of difficulties. Then call the customer care of the bank and speak with the customer support executive of the bank. The support team of the bank is just amazing and they will help you out.