You can easily get Jammu and Kashmir Bank Mini Statement by following two methods. In this guide, I have explained both the methods for the account holders of the bank. There is an SMS banking facility as well, but I did not find any SMS keyword information on the official website of the bank.
And that is the reason I have not explained the SMS banking method in this guide. You can use the mini statement of your bank account to check your balance. And along with the balance, this statement also helps you to know about the last 5 transactions that happened in your bank account. This includes both debit and credit transactions.
If you want the bank statement for the purpose of your income proof or address proof. Then you can not use the mini statement. For that purpose, you will have to get the full bank account statement for the last 3 months. You can get the statement offline from the home branch and online using the internet banking facility.
Methods to Get Jammu and Kashmir Bank Mini Statement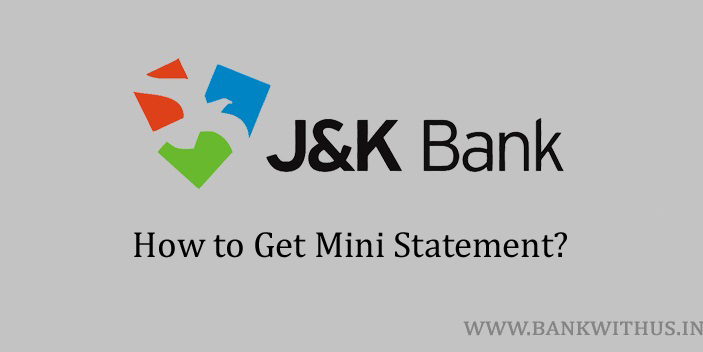 Choose any one method and follow the instructions.
Using ATM Machine
Steps to Get Jammu and Kashmir Bank Mini Statement using ATM Machine:
Find any ATM machine that is near to your location.
Visit the ATM Machine.
Insert your ATM card into the machine.
Choose your language.
Enter your ATM PIN Number into the machine.
Select "Mini Statement" from the screen of the machine.
The machine will ask you to select the type of account you hold with J&K Bank.
Select the type of your account. (savings or current)
The machine will process your request and you will get the printed receipt of the statement.
Using Mobile Banking Application
Steps to Get Jammu and Kashmir Bank Mini Statement using Mobile Banking App:
Download and Install the official mobile banking application of the J&K Bank.
If you are an Android User Install the app from Google PlayStore.
In case you are using an iOS device install the app from the iTunes Store.
Open the app.
Enter your Username and Password.
Login into the app.
Tap on "Mini Statement" from the Home Screen.
Select your bank account number from the list.
The statement from the selected bank account will be displayed to you on the screen.
Conclusion
This is how you can get Jammu and Kashmir Bank Mini Statement. If you are facing any kind of issues or want more information. Then you can call the customer care of the bank at 1800 1800 234. (toll-free) And speak with the customer care executive of the bank.